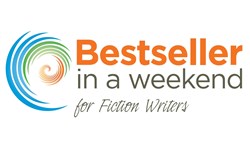 San Francisco, CA (PRWEB) August 16, 2013
The popular Bestseller in a Weekend program announces a new division, Bestseller in a Weekend for Fiction Authors, which will launch in September, 2013. Founded by Alicia Dunams, Bestseller in a Weekend has been in existence for several years and has guided hundreds of non-fiction authors through the process of writing, publishing, and promoting a book in one weekend.
Alicia Dunams will now partner with genre fiction coach Beth Barany, who will teach the virtual online Bestseller in a Weekend classes for fiction writers. The program is accepting science fiction, young adult, romance, and erotica genres and novellas. At this time, they are not accepting children's books or poetry.
Bestseller in a Weekend for Fiction Authors will provide the same comprehensive strategies provided to non-fiction authors that provide them with a professional book, support services, and effective guidelines on achieving bestseller status.
Beth Barany is a writer's coach, a keynote speaker and a marketing advisor for writers and publishers. She is also the author of The Writer's Adventure Guide: 12 Stages to Writing Your Book, Twitter for Authors: Social Media Book Marketing Strategies for Shy Writers, and Henrietta, The Dragon Slayer. A Certified Creativity Coach, she has 12 years experience helping authors write, edit, and publish their books.
Dunams, also a bestselling author and book coach, is excited about the opportunity to provide fiction authors with the program and services that will help them write and publish a book in record time. She states, "Beth Barany is an accomplished professional, and I'm proud to partner with her as we expand our Bestseller in a Weekend offerings to include aspiring authors in the fiction genre."
To learn more or to register for the first Bestseller in a Weekend for Fiction Authors, visit http://www.BestsellerinaWeekend.com/fiction . To learn more about Beth Barany, visit http://www.BethBarany.com/.
####
Alicia Dunams is the founder of Bestseller in a Weekend, a live online workshop that helps business professionals write, publish and market books in record time. Dunams also coaches her clients on how to promote their book and achieve bestseller status. To contact Alicia Dunams, please visit http://www.aliciadunams.com/.