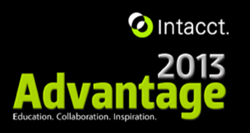 We're really looking forward to meeting with customers who are looking to extend their instance of Intacct.
Irvine, CA (PRWEB) August 20, 2013
Sererra Consulting Group, LLC., an industry leader in Green IT cloud business process and technology management solutions, today announced their Platinum Sponsorship of Intacct's Advantage conference, the top Intacct event of the year. Intacct customers and partners come together for over five days to share new capabilities and strategies that have helped businesses grow to new levels of productivity, efficiency and performance. Intacct is expecting a large turnout this year. The conference will be held at the M Resort and Green Valley Ranch in Las Vegas, NV, October 21-25, 2013.
Sererra has been a Premier VAR (Value Added Reseller) and consulting partner of Intacct for four years, with numerous successful implementations ranging from traditional financial management deployments to the most complex platform development and integration projects. Sererra is an Intacct partner that leverages domain expertise and industry knowledge and trends to enhance Intacct's capabilities for those industries. The company has a growing catalog of add-on customizations to benefit many industries, including software companies, nonprofits, and professional services to name a few.
This year, Sererra has opened up to their clients and other interested parties, scheduling 1-on-1 appointments with a Sererra Solution Architect during the conference. "We're excited to be a Platinum Sponsor this year, and we're really looking forward to meeting with customers who are looking to extend their instance of Intacct. It's also a great opportunity to meet with our customers and discuss new product features, our road map and process improvements. Each engagement is very important to us, and we have a true passion for improving businesses. It's not about the technology – though technology is definitely a major component. Rather, it's about what the technology can do when properly deployed. Our projects begin with the identification of the desired business goals and designing a roadmap to achieve them," says Sererra President, Nik Puni.
Sererra will be hosting several breakout sessions at Intacct Advantage this year, showcasing their innovative products; Sererra Fixed Assets, Transaction Validation, Subscription Billing and Salesforce.com integration to name a few. They recently rolled out a list of exclusive products for Intacct users who can bundle their solutions when they purchase their Intacct instance from Sererra.
Go here to schedule a meeting with a Sererra Solution Architect during Intacct Advantage.
About Sererra
Sererra Consulting Group, LLC. is a leading Green IT technology and management consulting firm focused on delivering turnkey business solutions for midmarket firms worldwide. A provider of SaaS based technology for ERP, CRM and eCommerce needs, Sererra's core areas of expertise emphasize business process engineering, systems implementation, integration and custom software development, including cloud-based business processes for a wide range of industries. With over 700 implementations, Sererra provides clients with a complete, unified and integrated solution that enables business to grow more profitably.
About Intacct
Intacct is the cloud financial management company. Bringing cloud computing to finance and accounting, Intacct's award-winning applications are the preferred financial applications for AICPA business solutions. Intacct applications, in use by more than 6,000 organizations from startups to public companies, are designed to improve company performance and make finance more productive. Hundreds of leading CPA firms and Value Added Resellers offer Intacct to their clients. The Intacct system includes accounting, contract management, revenue recognition, project and fund accounting, inventory management, purchasing, vendor management, financial consolidation and financial reporting applications, all delivered over the Internet via cloud computing.