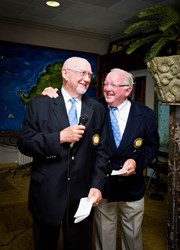 Vancouver, BC (PRWEB) August 20, 2013
The Old Head Golf Links of Kinsale, Ireland named noted Canadian athlete, politician, and lawyer Ted Duncan as its 2013-2014 Captain, effective on July 28, 2013.
Mr. Duncan played quarterback for the UBC Thunderbirds and went on to quarterback and punt in the CFL for the BC Lions and Calgary Stampeders. After retiring from professional football, Mr. Duncan ran a successful law practice in Calgary and served two terms as Alderman for the city. A frequent visitor to Ireland, Mr. Duncan was one of the founding members of the Old Head Golf Club, and has also been a member of the Point Grey Golf Club in Vancouver for 28 years, where he still plays whenever he is not abroad.
The Old Head Golf Links, founded in 1997, is situated on a 220 acre diamond-shaped peninsula that extends two miles out into the Atlantic Ocean. Located on the southern tip of Ireland, it is consistently selected as one of the finest golf courses in the world. Links Magazine named it the number one most spectacular course in 2011, and http://www.pga.com voted it one of its top ten most beautiful golf courses.
"This is a great honour," said Mr. Duncan. "Being chosen as captain for such a fabled golf course was one of the most exciting and rewarding experiences of my life."