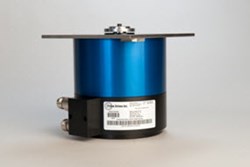 San Jose, CA (PRWEB) August 19, 2013
Prime Drives has received the coveted vendor of the year award from Philips Medical Systems for supplying a distinct Direct Drive Servo Motor that was engineered to fit into patient tables that are used at cancer ward hospitals world-wide. The ability to customize the design of the Direct Drive Servo Motor 175 series used in patient tables provided a solution which offered absolute encoder feedback, with an enlarged fail safe brake for immediate stopping capability.
The Prime Drives direct drive servo motor meet a zero defect rate, and zero late dock dates and achieved top vendor status for the entire Philips vendor Supply chain. Prime Drives has consulted with numerous medical manufacturing engineers in providing package and performance ideas and solutions to numerous manufacturers in the medical field.
Prime Drives provides Direct Drive servo solutions for applications requiring a higher resolution, non-typical moment loads, in environmental extremes or simply a custom winding in a package size unique to their customer's application. Prime Drives works directly with their customer's to engineer the best solution to fit their application that can not be found in off the self servo catalog offerings.
About Prime Drives:
Prime Drives is a US based manufacturer of Direct Drive Servo Motors. Our design improves design efficiency and productivity of complex machines by allowing engineers to choose basic options within the motor parameters specific to their design needs. For more information contact Prime Drives 775-333-5984 http://www.primedrives.com..