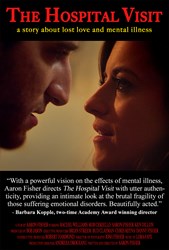 "Aaron Fisher directs The Hospital Visit with utter authenticity, providing an intimate look at the brutal fragility of those suffering emotional disorders. Powerful, beautifully acted." - Barbara Kopple, two-time Academy Award winning director
Brooklyn, NY (PRWEB) August 19, 2013
Aaron Fisher, a film student at the School of Visual Arts in NYC, wrote, directed, and stars in a short film, "The Hospital Visit," which he is currently in the process of submitting to film festivals. "The Hospital Visit" tackles the taboo subject of suicide among college students, which Fisher believes is a growing problem in higher education.
The film has come to the attention of acclaimed filmmaker Barbara Kopple, who has won two Academy Awards, and most recently tackled a related subject in her Sundance documentary "Running From Crazy," which features Mariel Hemingway exploring multiple suicides and depression in the Hemingway family.
Barbara Kopple says of Fisher's film: "With a powerful vision on the effects of mental illness, Aaron Fisher directs 'The Hospital Visit' with utter authenticity, providing an intimate look at the brutal fragility of those suffering emotional disorders. Beautifully acted."
Watch the teaser trailer for "The Hospital Visit".
"College and University administrations avoid talking about the problem of suicide on campus in order to protect themselves from lawsuits and bad publicity," says Fisher. "I wanted to make a film that addresses those issues by creating awareness and a better understanding of mood disorders. It's an important first step towards stamping out stigma against mental illness."
In the film, Fisher portrays Clyde, a college undergrad suffering from the tragic effects of bipolar disorder (formerly known as "manic depression"), having survived a suicide attempt that lands him in an inpatient behavioral health unit, colloquially referred to as a "mental hospital".
Follow "The Hospital Visit" on Facebook.
Fisher examines these issues honestly and provides some insights into the possible causes of suicide on campus. When asked why the film does not ever explicitly refer to "bipolar disorder" or a "suicide attempt," Fisher said that he wanted the film to remain true to life by keeping the real conflict unspoken: "The issues of bipolar disorder and suicide, especially on a college campus, are incredibly taboo and controversial. No college official would ever want to talk about it, even though it's becoming an increasingly common problem. There is not a single direct reference to those issues in my film. The meaning is all in the subtext, like a Hemingway story."
Fisher is hopeful that his film will reach a wide audience in the film festival circuit. "The Hospital Visit" has yet to be accepted to a film festival, but Fisher is determined. "You win some and lose some," says Fisher. "People who have mental illness learn the hard way that success doesn't come without a lot of failures first. I think that's one of the reasons so many successful men and women have mental illness, because they have no choice but to work really hard."