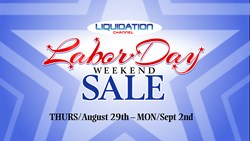 Relax and save this Labor Day with your LC. You deserve it!
Austin, TX (PRWEB) August 28, 2013
Liquidation Channel (LC), announces its Labor Day Weekend Sale going on Thursday, August 29th through Labor Day, Monday, September 2nd.
Start saving early with the Liquidation Channel's Labor Day Weekend Sale kicking off this Thursday, August 29th. This 5 day event will be filled with hot new arrivals, special deals on countless gemstones, jewelry, and life style products, and up to 80% off select items. Featuring 2 days of Under $10 Must Buys on Friday and Sunday and the launch Uruguayan Amethyst on Saturday from Noon-8PM. Closing out this most anticipated weekend sale LC will have 8 hours of jewelry made with SWAROVSKI ZIRCONIA. President, Gerald Tempton says," This is a weekend long sales event you do not want to miss. We will be showcasing some of the hottest deals that we have ever offered!" Relax and save this Labor Day with your LC. You deserve it!
Headquartered in Austin, TX, Liquidation Channel (LC) is a leading source of affordable rare and exotic gemstones, jewelry, and lifestyle products. As a multi-channel retailer, LC offers live broadcasting on a 24/7 Home Shopping Channel and a thriving website offering online catalog, live television stream and $1 Rising Auctions. With a more than 80 million household reach, Liquidation Channel is one of the fastest growing jewelry and lifestyle retail businesses in the US.
About Liquidation Channel: Liquidation Channel (http://www.liquidationchannel.com) is a global leader in direct sales of colored stones, diamonds, precious metals, and a variety of luxury goods and innovative products. Through a precisely and fully integrated system, the Liquidation Channel specializes in delivering Exceptional Quality, Exquisite Designs, and Outstanding Value, while providing a low-price guarantee on each of its products. The store's unique jewelry is available online at LiquidationChannel.com and on DirecTV Channel 75 and 226, Dish Network Channel 274, Verizon FIOS Channel 159, ROKU and local cable channels.