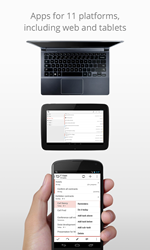 Todoist 2.0 is the best work our Android team has ever accomplished. I am really looking forward to seeing our users' reaction once they experience this outstandingly reimagined version of the app
Santiago de Chile (PRWEB) August 20, 2013
Today, Todoist for Android smartphones and tablets receives an outstanding upgrade that positions the application as the premier cloud-based task manager, now available across 11 different platforms and used by over 700,000 people across the globe.
Todoist is now the only mobile task manager app that allows users to easily create a perfect hierarchy of projects and tasks while providing support for sub-tasks and sub-projects which can be nested up to five levels for optimal organization.
The app's search capabilities have been similarly enhanced allowing for full-text searches, date searches and conditional searches (Premium only). Also among its reconceptualized features include a new and simplified way of adding tasks with the new inbox tool–not requiring an existing project in order to add new tasks–as well as a redesigned "add task" screen. It also showcases a fresh look that is coherent with Android's newest visual standards including a left navigation drawer.
New Premium features include flexible reminders that can be assigned to a specific time or periodically before your task is due. Simplified notes is another Premium feature Android users will enjoy as it allows one to create tasks, notes, and reminders simultaneously instead of having to create a task first and then add notes and reminders in a second step. Finally, Premium users will now have a new filter providing a wider range of customization options for more sophisticated task management.
"Todoist 2.0 is the best work our Android team has ever accomplished. I am really looking forward to seeing our users' reaction once they experience this outstandingly reimagined version of the app," says Amir Salihefendic, the founder of Todoist.
About Todoist
One of the first available task-management softwares on the market, Todoist, launched in 2007, is a powerful task manager for personal productivity that lets users manage tasks from their inbox, browser, desktop, or mobile device. Todoist is available on nine different platforms and is used by over 700,000 people (many from Fortune 100 Companies like IBM, Oracle, and HP) who have completed more than 20 million tasks. Todoist, built by a 13-person virtual team, is proof that amazing technology can be built outside of Silicon Valley by focusing on staying lean, working virtually and finding amazing talent around the world.
Press Contact | Brenna Loury | brenna(at)doist(dot)io | Telephone +1-970-672-0055
Media Package Click Here