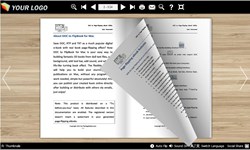 (PRWEB) August 17, 2013
Recently, 3dpageflip.com, the online supplier of page flip software, has introduced its new product, an easy-to-use flipbook software, 3D PageFlip Standard (see: http://www.3dpageflip.com/pageflip-3d/index.html). This flip page software now has new features to help users create professional flip books in no time.
With internet marketing getting popular with every passing day the need for digital media publishing solutions have also sky rocketed. Customers are looking for tools which can create reader friendly, interactive and interest grabbing content for their businesses. Creating ebooks, magazines or brochures are some successful marketing strategies but in order to make it successful, these must be interesting and professional. 3D page flip standard addresses this need very well by offering all in one solution for creating magazines, flip books or brochures which are interactive and professional at the same time. This flash flipbook software is loaded with advanced features by which users can efficiently create ebooks of their choice. The most prominent feature of this tool is its real time 3D effect feature which is not found in any other similar software available in the market. With this feature real time animations and 3D graphics can be added to the ebooks. In addition to this, it also supports all types of file formats and not just PDF format. Hence, this software offers a convenient way of making error free, interactive and professional ebooks, magazines or brochures.
Its distinct features and a user friendly interface not only allows users to create exceptional ebooks but it also saves a lot of time by easily creating professional flip books. Batch convert of PDF files, security settings and sharing the output file on various social networking websites is no more a problem with this software by 3dpageflip.com. Specialized and customized flip books or any other kind of marketing material can be made, published or printed easily and quickly.
3DPageflip Software Co., Ltd (http://www.3dpageflip.com/) is a Chinese software Development Company established in the year 2008. It specializes in developing professional flip book software programs at low rates.