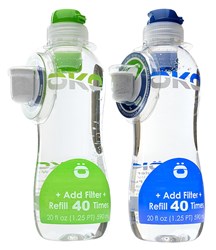 40 Cycle Tap Water Refillable Bottles
San Francisco, CA (PRWEB) August 20, 2013
ÖKO H2O announced the launch of the world's most affordable filtration water bottle that uses a patent-pending miniaturized filter pod system to allow effective filtration of water for up to 40 refills. ÖKOPURE™ carries a suggested retail of $4.95, can be refilled with tap water and used over and over—a practical yet affordable alternative to bottled water.
ÖKOPURE™ appeals to everyone concerned about the ever-increasing cost of bottled water and its environmental impact through plastic waste while still getting convenient, affordable, great tasting water. The built-in tap water filters meet NSF Std. 42 for reduction of chlorine, taste and odor and filter water efficiently at a fraction of the cost of expensive and unsustainable bottled water. Bottles hold 590ml of water, can be recycled at the end of their lifecycle, and the coconut shell carbon filters are naturally biodegradable - resulting in no plastic waste and a very "green" product. There's even a miniature dial on the filtration mechanism which allows the user to keep tab on the number of refills.
ÖKOPURE bottles are already available on amazon.com and will soon be available for sale on the ÖKO H2O website http://www.OKOH2O.com/. They will also appear at retail store levels, reducing the waste caused by plastic in bottled water by as much as 98%. "Filtration bottles have been around for a few years. Our goal by creating OKOPURE™ is to appeal to a much larger audience with a very affordable product, a minimal carbon footprint and while maintaining a stylish and practical design. At $4.95/unit, our 40-refill bottle is about the price of 2 regular bottled waters of the same size (or just one bottle at most airports and hotels). Consumers will still be able to take advantage of using a lightweight and elegant clear PET bottle while saving money and playing an important role in helping the planet" says Mohssen Ghiassi, founder of ÖKO H2O.
All ÖKO filtered water bottles are BPA, taste and odor free and are FDA compliant in every regard. ÖKOPURE bottles use recycled PET (RPET) and natural super-fine coconut shell carbon filtration.
About Original ÖKO Bottles
Pronounced "ooko," ÖKO means "eco" in Swiss German, where the idea for the state-of-the-art filtered water bottle was originated. ÖKO takes the concept of the eco-friendly water container one step further with NASA derived filtration technology, packaged in a smartly designed bottle with a super-light, high-tech blend of materials — ensuring that you're always drinking safe, pure, potable water in style. It's the ideal choice for everyday use, travelers, adventurers, hikers, yogis, runners, and anyone who needs convenient access to clean, clear, crisp water. And with 3 sizes, 6 designer colors, and 3 levels of filters, it's easy to have the ÖKO bottle that's right for you. Visit http://www.OKOH2O.com/.