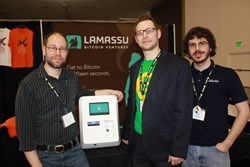 We feel the urgency to get our machines out there. Obtaining Bitcoin is just as hard now as it was when we set out to develop the Bitcoin Machine, and this is a solution we feel a lot of people have been waiting for. - Zach Harvey
Porto, Portugal (PRWEB) August 17, 2013
Lamassu, Inc., makers of the Bitcoin Machine, the world's first Bitcoin ATM, are nearing production and have opened their website for pre-orders. Within hours of announcing pre-orders in a newsletter sent out on Monday, the preliminary production run had been funded with orders paid in Bitcoin.
CEO Zach Harvey expects the preliminary run of 15 units to ship in September and the remainder of the pre-orders to ship by the end of the year.
"We feel the urgency to get our machines out there," Harvey says. "Obtaining Bitcoin is just as hard now as it was when we set out to develop the Bitcoin Machine, and this is a solution we feel a lot of people have been waiting for."
Lamassu's cash-to-Bitcoin device has garnered substantial media attention over the past months, including pieces in the Wall Street Journal, CNBC, TechCrunch, the BBC, the Financial Times, Mashable and Bloomberg.
According to Harvey, Lamassu has received, "over 150 inquiries from all over the world" for their Bitcoin Machine.
"I believe the excitement revolving around our machine stems from a few of its basic advantages over other methods of obtaining Bitcoin. Those advantages are ease of use, zero registration, walk-in conversion and no minimum deposit. "
Having no minimum deposit would allow for the Bitcoin curious to walk into a convenience store, insert one dollar or five euros into the Bitcoin ATM and get the feel for the technology, without taking any real risk of loss.
On the topic of regulatory requirements for the Bitcoin Machine, although Lamassu are providing the devices only and do not provide any financial services, the company is partnering with leading ID and compliance services, to integrate these into the machine.