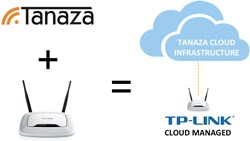 Adding cloud management capabilities to WR8041 and WA901 increased flexibility and freedom of Managed Solutions Providers in the Wi-Fi space
Milan, Italy (PRWEB) August 27, 2013
Tanaza's goal is to empower any Wi-Fi Access Point and make it cloud manageable. Sebastiano Bertani, CEO of the company, states that "more and more Managed Solution Providers in the Wi-Fi space enjoy the freedom and flexibility that Tanaza can provide: sometimes the ability to have multi SSIDs and a captive portal on a cloud managed TP-Link such as WR740 are enough. Other projects require higher performing devices, such as Ubiquiti UniFi, and a different feature set such as VLAN tagging to isolate the guest network. Supporting a wide range of devices is key to offer the best choice for each single scenario, from hotspots in cafés to high density wireless networks in conference rooms. Adding cloud management capabilities to WR8041 and WA901 has been a way to increase this flexibility".
Tanaza can add features such as multi-ssid, cloud-management, remote monitoring, email alert in case of device failure, real-time statistics of connected clients, captive portal, multi-nat, vlan tag and more, not only to TP-Link devices, but also to devices such as Alfa Network, Ubiquiti and soon other brands. A complete list of the supported devices can be found here.
About Tanaza (http://www.tanaza.com)
Founded in 2010, Tanaza's mission is to make Wi-Fi management easy and affordable, by removing the need for expensive hardware controllers and enabling remote management of any vendor access points in multiple locations through one intuitive interface.
A demo, free trial or quotation is available by contacting your local Tanaza Channel Partner or Tanaza http://www.tanaza.com, sales(at)tanaza(dot)com or +39 02.8718.8553.