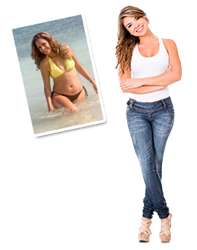 "The Moriche Palm is great for women who desire a natural solutions for body shaping - The 100% stimulant free diet promotes weight loss & body contouring benefits" -Dr. Marvin White
Los Angeles, CA (PRWEB) August 21, 2013
A slender waistline, curvier backside, and fuller bust are what most women want, and with the launch of the all-natural Moriche Palm Diet, women can finally achieve weight loss without sacrificing their sexy curves!
Research shows that 95% of women report what they hate most about losing weight is losing their curves. Nearly all diet manufacturers offer supplements and programs for weight loss, but none have offered a way for women to keep their curves while losing weight until now.
Herbal Tropics is the only nutritional company that supplies the exclusive Moriche Palm Diet, the revolutionary diet that offers natural slimming and body contouring benefits to help women lose weight while simultaneously enhancing and accentuating their curves!
The Moriche Palm Diet is causing quite a sensation in Hollywood with more celebrities following the diet to achieve a more sexy and curvaceous figure like Rosa Acosta, Claudia Jordan, and Dominica Westling!
So the next time women are debating between effective weight loss and full, beautiful curves, they can have the best of both worlds with Moriche Palm Diet, the diet that helps women keep their shape the natural way!
About Moriche Palm Diet:
The Los Angeles-based nutritional company, Herbal Tropics, is embracing their holistic approach to weight loss and body contouring. Founded in January 2013, the Brazilian supplement line has explored this world of natural health and beauty. Herbal Tropics burst into the health and fitness world with a passion to help women regain confidence and pride in their bodies by embracing their curves with a new, healthy Brazilian lifestyle.
The Moriche Palm Diet embraces a holistic diet philosophy that supports natural body shaping. 100% stimulant and caffeine free, the Moriche Palm Diet is intended to bring nutritional balance back to the body and support more effective weight management.
The Moriche Diet is coming soon to Walgreen's & CVS drug stores in the USA!
##