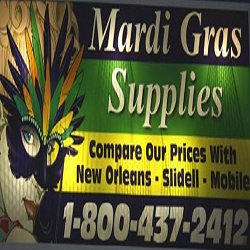 We have mardi gras items available for any season or reason - for ex: St. Patrick's Day, Gasparilla Pirate Fest, and Fantasy Festival, apart from Mardi Gras festival.
Gulfport, Mississippi (PRWEB) August 19, 2013
Mardi Gras Supplies launched new website with which it provides variety of new Mardi Gras beads and party items for all occasions and festivals. Mardi Gras Supplies headquarters is based in Gulfport, MS. Mardi Gras Supplies is in business for more than 25 years and the customers get the best prices for mardi gras items compared to New Orleans, Mobile, Slidell and any other online stores. Mardi Gras Supplies was started in 1985 by Manny Peixoto.
Customers can find thousands of Mardi Gras items such as venetian masks, feather masks for men and women from Italy, beads, hand strung beads, custom beads, sports beads, mesh ribbon, flags and wreath forms at reasonable prices. Mardi Gras Supplies store in Gulfport and online carries a huge collection of items with vast range of colors that customers cannot find anywhere else.
"Customers get the best beads at the best prices all the time and the business has grown and expanded over the years. Instead selling just beads, we started Mardi Gras Masks, Costumes, Jewelry, Dolls, Decorations, Umbrellas, T-shirts, and so much more. We have mardi gras items available for any reason or season - for ex: St. Patrick's Day, Gasparilla Pirate Fest, and Fantasy Festival, apart from Mardi Gras festival," says Manny Peixoto, founder of Mardi Gras Supplies.
Beads are available in every size, shape, and color that a customer can imagine. Customers also have the opportunity to order personalized and custom made beads. These beads cover all age ranges. In typical Mardi Gras style, there are even adult or naughty themed beads for sale. Whether you want simple 33 inch 7 millimeter throw beads or complex and well-made hand strung beads, they have it all. The best part is that all of their prices are incredibly reasonable. You will not go broke trying to buy items for your next parade.
For a theme party, one check out the selection of pirate, luau, and patriotic party items. The decorations can also be used for prom, Sweet 16 birthday parties, masquerades, balls, luncheons, and anything else you would decorate for.
Customers find all Mardi Gras items at one place. The new website enables customers to find unique mardi gras item by advance search, by bead chart, product categories and sub categories, easy to navigate and purchase items easily.
Aftermath of Hurricane Katrina, Mardi Gras Supplies designed a popular new throw to support the community - Katrina Beads, long beads that have an outline of Louisiana, Mississippi and Alabama with the date and two hurricane swirls.
"Apart from individuals, we also have schools, universities, business, companies that buy mardi gras item from us. We also have reseller opportunities for those interested in wholesale prices - please check our website to see if you meet the requirements," says Manny Peixoto.
About Mardi Gras Supplies
It is little known that Mardi Gras actually started in Mobile, Alabama in 1703. Mardi Gras is still celebrated in Mississippi, Alabama, and Louisiana. It is a huge festival that lasts from after Christmas all the way until the day before Lent. Many people celebrate with balls and parades. For the balls, women wear elaborate gowns and beautiful masks and the men wear tuxedos and masks. For the parades, krewes get together and decorate floats and throw out beads, candy, moon pies, stuffed animals, and more. It is the last big party before you have to give up something for Lent. Many people come from all over the world to celebrate Mardi Gras and the long standing traditions that go along with it. This year, you should plan to come and laissez le bon temps rouler or let the good times roll.
If you are around Gulf coast area, visit our store located at 2001 East Pass Road, Gulfport, Mississippi.
Checkout Mardi Gras Beads and purchase other unique mardi gras products at whole sale and discount prices and let Mardi Gras Supplies be the provider for all your party needs.