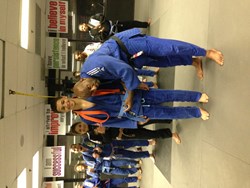 I love traveling to compete with my team - Ross
Camp Springs, MD (PRWEB) August 20, 2013
Lloyd Irvin Martial Arts Academy is a hotspot for young, up and coming martial artists. The Academy boosts a nationally recognized kids and teens competition team, stellar summer camp program, and world class after school program. The kids and teens who come up through Lloyd Irvin Martial Arts Academy are more than just athletes, many are also academically inclined as well, with over a dozen students achieving a 3.0 GPA or higher.
Ross Olexa is one of Master Lloyd Irvin's most promising students. Ross began training at Lloyd Irvin's when he was 4 years old, following the steps of his older brother, Ryan Villogram. Ross trains under Master Lloyd Irvin and Master Donald Achnick where he's won multiple North American Grappling Championships and multiple Grappler's Quest Championships.
Ross, now 16 years old, was promoted to the rank of adult Brazilian Jiu Jitsu blue belt on August 1st, along with his teammates Krystal Allen and Jazmine Marable.
Ross credits his accomplishments to hard work and dedication.
He said, "Lloyd Irvin's Martial Arts Academy has helped me become an individual and kept me on a positive path! I love traveling to compete with my team."
Master Lloyd Irvin and Master Donald Achnick are proud of their young pupil, and if Ross continues to train and study hard, there's no limit for the young man.
For more information on Lloyd Irvin Martial Arts Academy, please call 301-449-KICK or visit http://www.lloydirvin.com.