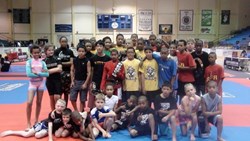 Camp Springs, MD (PRWEB) August 20, 2013
Lloyd Irvin Martial Arts Academy is known for producing highly talented athletes, but what's little known, is the academy also produces talented scholars and mature teens as well. Lloyd Irvin Martial Arts Academy, located in Camp Springs, MD, is a martial arts school dedicated to serving its community and the youth. The program offers everything from professional mixed martial arts training to after school programs to very beginner fitness classes. But what makes Lloyd Irvin, head instructor and owner, most proud, is his youth program.
Master Lloyd Irvin has dedicated his youth program to providing kids and teens with, not only fitness and martial arts, but life skills such as discipline, manners, bully prevention techniques, self defense, avoiding peer pressure, confidence, academic achievement and much more.
"I wanted to start an academy where the whole family could come and train and grow together, but especially the kids. There's so many negative influences on the youth today, I wanted to provide an environment where kids and teens could grow into intelligent, mature adults. I want them to have the confidence to excel in whatever path they choose."
There are over 14 "kids" who have been a part of Lloyd Irvin Martial Arts Academy for over 10 years, they call themselves the "Decade Kids." Most of them achieve a 3.0 or better at their respective colleges and high schools. All of whom testify that Lloyd Irvin Martial Arts Academy helped keep them on a positive path throughout their adolescence.
For inquiring parents, Lloyd Irvin Martial Arts Academy offers classes for all people ages 2-17. There is the beginner "Parent & Me" classes for the tiny ones ages 2-4. The Tiny Ninjas Program (ages 3-4) and Little Ninjas (ages 5-7) offer introductory classes, teaching basic martial arts, self defense and life skills. Jr. Thai Jitsu classes focuses on kids ages 8-12 and the Teens program is for the more mature 13-17 year old bracket. For kids and teens who train for at least and develop through the program, there are intermediate and advanced classes called Masters Club.
Outside of regular classes, Lloyd Irvin Martial Arts Academy also offers a Summer Camp program, where outside of martial arts and life skills training, the kids attend field trips every week to Six Flags, the movies, mini golf, trampoline parks, and more.
The After School program is open to all kids ages 4-13, they are picked up from their respective school and brought to the academy where they first must complete their homework before going into martial arts instruction. Lloyd Irvin Martial Arts Academy is currently offering a Free Week Trial for all new parents. For more please visit: freeafterschoolprogram.com
For more information on Lloyd Irvin Martial Arts Academy, please call 301-449-KICK, where lines are open 24/7 or visit: http://www.lloydirvin.com.