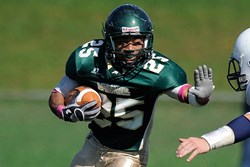 I'm excited - Rollins
Camp Springs, MD (PRWEB) August 21, 2013
Team Lloyd Irvin is known for producing high level athletes, and Joseph Rollins is no exception. But more than just an athlete, Joseph is also an academic scholar, and in his senior year, he's set some lofty goals for himself.
Joseph Rollins, 21, began training at Team Lloyd Irvin in Camp Springs, MD when he was 7 years old. Joseph began in the youth martial arts program and is now an instructor and counselor with the Lloyd Irvin Martial Arts Academy Summer Camp program.
Lloyd Irvin, head instructor at Team Lloyd Irvin, is very proud of his young pupil and is confident Joseph can achieve any goal he sets for himself, in fact, Lloyd Irvin challenges Joseph to set even higher goals for his senior year.
Rollins will be a senior this year at McDaniel College in Westminster, MD where he enjoys a full football scholarship and plays the running back position. Joseph has a 3.46 cumulative GPA and is majoring in Graphic Design. Joseph's academic goals for 2013-2014? "To get a 3.7 GPA for both semesters my senior year," says Rollins.
As for football, Rollins looks for his senior year to be his best year yet. As a team, he's sure McDaniel will win the Conference and then National Championship in their division. For personal goals, Joseph as set the bar at 2013 yards rushing and 5 kick or punt returns for touchdown.
Team Lloyd Irvin continues to support Joseph, many of the students and instructors attend his Saturday games throughout the season. Sticking to his martial arts upbringing, Joseph has considered entering Mixed Martial Arts if his health upholds. Although, Joe isn't 100% sure about that, he's got quite a few options after college.
Rollins said, "I'm not sure exactly what route I'll be taking. Professional football or MMA if I can stay healthy. Graduate school is an option, I would go for my Masters in Deaf Education. Maybe start a graphic design business. My last resort would be the Air Force. I have options, so I'm excited no matter what."
For more information on Team Lloyd Irvin, please visit http://www.lloydirvin.com or call 301-449-KICK.