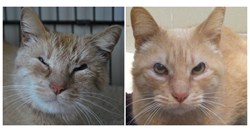 It's important to us that we can help ECAR to provide assistance to animals in need.
San Diego, CA (PRWEB) August 17, 2013
San Diego's Leo Hamel Fine Jewelers is proud to be a supporter of the East County Animal Rescue. Executives and employees of Leo Hamel Fine Jewelers donate throughout the year to help ECAR continue their good works.
Established in 2002, the East County Animal Rescue (ECAR) is a grassroots network of volunteers who are passionate about helping animals in need within the San Diego community. ECAR takes in homeless animals that would be euthanized at county shelters, gives them needed medical care, and finds them new homes. Over 800 kittens, cats, puppies, and dogs found new homes in 2012 through ECAR adoption clinics held at local Petco and Petsmart stores.
ECAR is also the only group in the area performing "Trap-Neuter-Return," or TNR, where free-roaming cats are spayed and neutered to decrease the county's population of unowned cats. ECAR estimates that there are over 900,000 feral cats living in San Diego County. Feral cats are formerly domesticated cats that were abandoned outdoors, or kittens born to these cats that have had no human contact, and are afraid of people, so they cannot be adopted as pets. ECAR works to educate the community that TNR is the only effective and humane solution for feral cat overpopulation, and last year alone, they spayed and neutered over 1800 animals.
Most recently, Leo Hamel Fine Jewelers donated money to help pay for a life-changing surgery for a special cat, Luigi. Luigi's owner moved away and abandoned him outdoors to fend for himself. Kindly neighbors, who were feeding him, noticed that he was always squinting. ECAR took Luigi in and diagnosed him with entropion, a condition in which a portion of the eyelid is inverted or folded inward against the cornea. Eyelashes constantly rubbed his eyes so that it hurt to open them. If not corrected, the damage to the cornea could eventually leave him blind.
ECAR raised money from donations to pay for the surgery that corrected his eyelids and allowed Luigi to open his eyes without pain for the first time in his life. Luigi is feeling much better, and looking for a new home through ECAR's adoption program.
Robin Hart, CFO of Leo Hamel Fine Jewelers and longtime supporter of ECAR, says, "It felt great to donate money to help pay for Luigi's eyelid surgery. It's important to us that we can help ECAR to provide assistance to animals in need."
Leo Hamel Fine Jewelers has been buying and selling jewelry in the San Diego area for over 32 years. Just last year they were voted San Diego's Best Designer Jewelry in the 10News.com A-List contest and San Diego's BEST Jeweler in the Union Tribune's SD BEST poll. Leo Hamel Fine Jewelers' two showrooms in El Cajon and in San Diego near Old Town are the only locations to offer watches and jewelry for sale, and watch and jewelry repair is offered in San Diego only. Nine jewelry buying locations in San Diego, La Mesa, Solana Beach, Oceanside, Escondido, Rancho Bernardo, Scripps Ranch, Chula Vista, and El Cajon specialize in buying your unwanted gold, jewelry, and fine watches.