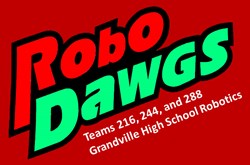 I was so impressed with not only the RoboDawgs willingness to help out our team in any way you could but also your genuine interest in our well-being. Sometimes you get "lip" service about helping out, but you guys are the real deal.
Grandville, MI (PRWEB) August 17, 2013
The Grandville High School RoboDawgs announced a mentoring program today designed to support Michigan high schools that want to apply for a state grant to support a new or existing FIRST Robotics team. The FY2013 State School Aid Act, section 99h appropriated $3,000,000 for the 2013-14 school year for competitive grants to districts that provide pupils in grades 7-12 with expanded opportunities to improve mathematics, science, and technology skills by participating in events hosted by a science and technology development program known as FIRST (For Inspiration and Recognition of Science and Technology) Robotics. The Grandville RoboDawgs will assist new and existing teams with the preparation of grant applications – as well as the development of educational strategy, team organization, mentor development, fundraising, and robot design and construction. High schools wanting to take advantage of the State grant program and interested in mentoring support can contact the RoboDawgs via email: robodawgs(at)grandvillerobotics(dot)com
The RoboDawgs have publicly advocated for more public support of high school robotics at events such as their semi-annual promotional event at the Rivertown Crossings Mall in Grandville, where they have talked with both local and state school board members. They have met with teachers and administrators from many Michigan school districts – and they took their message to the annual meeting of the Michigan Association of Secondary School Principals last year. The team was excited to see results, as the State of Michigan Department of Education announced the 2013-2014 grant program last week. Under the terms of the grant program, school districts can claim basic grant funds of $6,500-$9,000 per FRC team. Basic grants require 50% local matching funding from one sponsor, business entity, higher education institution, or technical school. The grant program will also provide additional funding to support teams which advance to a State or National Championship.
All public schools in Michigan are eligible for the FIRST Robotics grants if they operate a FIRST Robotics team and meet the following requirements:

Have a current FIRST Robotics or Tech Challenge program in place that will continue through the 2013-2014 school year.
Establish a FIRST Robotics or Tech Challenge program in the 2013-2014 school year.
Program must serve students in grades 7-12.
The Grandville High School RoboDawgs is one of the largest FIRST Robotics programs in the world. Grandville High School is the only high school in North America fielding three FRC teams. Grandville is home to Team 288 (The RoboDawgs), team 216 (More RoboDawgs) and team 244 (RoboDawgs 3D). The RoboDawgs have been helping schools develop new robotics teams for more than a decade, with the team mentoring more than 50 new robotics teams over the past 16 years. Not only have the RoboDawgs mentored West Michigan teams, last year they installed telepresence technology at the Grandville Robotics & Engineering Center that allowed them to remotely mentor two new robotics teams in Calgary, Alberta. One of those new teams, #4627 Iron Manning from Ernest Manning High School, won the Rookie All Star award at the Canadian Western Regional FIRST Robotics Competition and qualified for the FIRST Championships in St. Louis.
For more information on the State of Michigan Grants, visit http://www.michigan.gov/documents/mde/Robotics_Grants_431002_7.pdf
******************************
Grandville Public Schools has been a leader in educational robotics for more than 15 years. Beginning with one high school robotics team in 1998, the district's program has now grown to include more than 30 teams. More than 500 students, from fourth through twelfth grades, participate on Grandville robotics teams, designing, building, and programming robotics for competitions around the world. Grandville has one of largest Lego League programs in the country, with the District fielding 18 teams this year. These students go on to compete in the District's VEX Robotics program at the middle school level, as well as the FIRST Robotics competition and the Great American River Race at the high school level. This fall, Grandville High School will introduce its first robotics course into the high school curriculum. This course, 'Robotics and Applied Science," is a ground-breaking, college-level engineering class that will help prepare Grandville students as they move on to study science and engineering at leading universities across the country. The Grandville Academic Team Boosters provide financial, technical, and coaching support for the Grandville robotics teams and other academic teams in West Michigan.