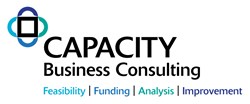 If it doesn't sell that way, we will list it for the commission and credit the cost of the Sales Preparation. The client has no risk.
Newburgh, NY (PRWEB) August 22, 2013
Business brokers buy and sell businesses for clients much like real estate agents buy and sell homes for their customers. Capacity Business Consulting does it in a way that that sells the business much faster, for a higher price, and for less of a fee or commission.
Sales Preparation™ includes:
Business Valuation – A full financial history and projections with trends, ratios, and valuation.
Research – Research Prospective Buyers, the Industry, Market, Demographics, Customer profile, and Competition in order to place the business in the best light.
Packaging – Secrets and problems are dealt with appropriately and opportunities made as appetizing as possible.
Identification of Untapped Potential – Research and expertise allows for identification of potential that increases the valuation of the business.
The above information is assembled into a Sales Package for use with prospective buyers. This package acts as a brochure and operations manual that sells the business faster and at a higher valuation.
Eric Egeland, President of Capacity adds, "Most brokers tend to put a few numbers and pictures on a website but they don't dig into the business so they can answer inquiries and actually SELL it. We do a package with a one pager that has the ten areas a buyer really wants to understand. This package is much less expensive than the typical 12% broker commission and it almost always results in a sale to the owner's circle of influence. If it doesn't sell that way, we will list it for the commission and credit the cost of the Sales Preparation. The client has no risk."
When asked if Capacity represents buyers, Eric says, "No, we search on the same websites as the prospective buyer. It's an absolute nightmare when all the information isn't there and no one can answer real questions about the business for sale."
About Capacity Business Consulting
Capacity Business Consulting's broad array of services includes feasibility studies, funding preparation, issue analysis, improvement, strategy, sales, etc. for small- to medium-sized businesses and startups in any industry. For more information, visit http://www.CapacityBusinessConsulting.com
845.764-9484
info(at)CapacityConsultingInc(dot)com