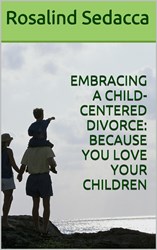 This guidance will be invaluable in helping you make wise decisions, avoid dangerous mistakes and support your family in the years ahead."
West Palm Beach, FL (PRWEB) August 20, 2013
Divorcing parents who want to avoid the tensions and discord that can negatively affect their children will welcome the news about a new ebook written by Rosalind Sedacca. Embracing a Child-Centered Divorce: Because You Love Your Children! provides guidance on telling children about divorce, co-parenting successfully and moving on in a way that supports the well-being of both parents as well as their children.
Sedacca is the author of the internationally-acclaimed ebook, How Do I Tell the Kids About the Divorce? A Create-a-Storybook Guide to Preparing Your Children – with Love! Her new ebook is about much more than breaking the divorce news to children. It's based on Sedacca's years of experience first as a divorced parent and then as a Divorce & Parenting Coach. Today she is recognized as The Voice of Child-Centered Divorce and Founder of the Child-Centered Divorce Network where parents can turn for help, insight and valuable resources on all facets of divorce and parenting issues.
"I created this ebook for parents at any stage of divorce: before, during and after," says Sedacca. "I know you love your children. Now you're experiencing one of life's greatest challenges and you want to create the best possible outcome. This guidance will be invaluable in helping you make wise decisions, avoid dangerous mistakes and support yourself and your family in the months and years ahead."
Sedacca says, when faced with the reality of divorce, most parents experience a roller-coaster of emotions -- including fear, anger, resentment, sadness and an overwhelming sense of guilt. They want to do right by their children. At the same time they are coping with the failure of their marriage, often frightening financial considerations, multitudes of decisions and the urge to get back at their soon-to-be former spouse for the part they played in causing the divorce. It can bring out the worst in people. And if parents aren't cautious, they can inadvertently use their children as pawns in schemes to hurt or punish their ex.
This is where Sedacca's Child-Centered Divorce Network can be a beacon of light. Therapists, attorneys, mediators and other divorce professionals around the world refer clients to the website for its "child-centered" articles, insights, personal coaching services, programs and other valuable resources on divorce and parenting issues.
Sedacca has also created the Mastering Child-Centered Divorce 10-hr Audio Coaching Program with workbook and expert interviews to keep both parents on the right track when making co-parenting decisions. For parents experiencing the consequences of mishandling anger issues, she has co-created an 8-hr and 12-hr Online Anger Management Program for Co-Parents. Happily remarried herself, Sedacca has also developed a series of programs and courses for single women and men on dating after divorce and how to attract lasting love partners.
Among the many topics covered in Sedacca's new ebook are: Divorce or Stay? Parents Must Put Kids First Either Way, Divorcing Parents – Think Twice Before Going to Court, How to Prevent Scarring Your Kids During & After Divorce, Make Smart Choices for Post-Divorce Co-Parenting Success, 5 Ways to Minimize the Impact of Divorce on Your Children, The Power of Forgiveness: The Gift You Give Yourself!
Embracing a Child-Centered Divorce: Because You Love Your Children! is available as a Kindle ebook at Amazon.com.
About the Child-Centered Divorce Network
Rosalind Sedacca, CCT is a Certified Corporate Trainer and founder of the Child-Centered Divorce Network, a support system for parents who are facing, moving through or transitioning after divorce. She provides a free ebook on Post-Divorce Parenting: Success Strategies for Getting It Right! as well as a free weekly ezine, blog, coaching services, courses, programs and other valuable resources for parents. Learn more at: http://www.childcentereddivorce.com. Rosalind can also be reached at: Rosalind(at)childcentereddivorce(dot)com or 561 742-3537.