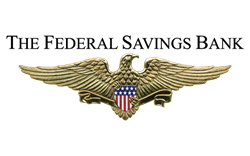 Mental toughness is what's going to get you through
Chicago, IL (PRWEB) August 17, 2013
The Federal Savings Bank, an institution specialized in VA home loans, has been passing on positive recent efforts in the employment space with regard to veterans. Amid a sea of applicants, some Wall Street firms go out of there way to hire veterans because of their work ethic and their ability to perform in high-stress environments.
FOX Business reported on August 11th that many veterans seeking a Wall Street career often apply to the NYSE Euronext Veterans Associate Program, a 10-week internship program designed specifically for veterans.
"Mental toughness is what's going to get you through," said Mark Otto, managing director at J. Streicher & Co. "I think that's an advantage (the program participants) have over civilians that are in tough situations (on the floor). They've stuck it out. They've been through war. They know what toughness is."
Otto, a Marine, was on leave during his third year when he met his friend's boss. The boss happened to have a 25 year career at the NYSE and was also a veteran. As a result, Otto landed an entry-level position at Spear, Leads & Kellogg. And while lives are not on the line as they are behind enemy lines, Otto says that it's still a high-stakes environment.
"When you enter an occupation, you need to develop confidence, understand fundamentals of the business, then take on more responsibilities," said Grant Borgelt, an associate at the NYSE Veterans Associate Program. "I have that appreciation - but when you talk to hiring managers, if there's not some accommodation (for veterans), or appreciation that someone who spends for or six years (in the military) they'll need a different channel to enter into the corporate world than the average person who finished college. In a sense, it's frustrating because trying to get your first break is very difficult."
One firm makes a commitment
Going above and beyond just an internship program, the Drexel Hamilton firm personally hires and trains veterans over high-performing college graduates. Of the firm's 69 employees, 31 are veterans, and an additional 14 employees are disabled veterans.
"These people work hard," James Cahill, president of Drexel Hamilton, told Newsday on August 7th. "They are the Joes of the world who deserve to buy a home for their families and have a decent shot at the American dream."
Cahill, who lost his son during the 9/11 terrorist attack, believes in giving back to veterans because their work protects the people in New York City from more attacks. In 2008, Lawrence Doll invested his own money to start the firm, and believes that giving veterans rewarding, lucrative employment gives them back their dignity. Doll is a disabled veteran himself, and brought Cahill in to run the daily operations at the firm in 2010.
According to Traders Magazine on July 26th, it doesn't matter if the veterans that Cahill hires move on to other firms. The real benefit, he added, is getting veterans to work. To ensure these men and women get the training they need to succeed in the stock exchange environment, the firm pairs veterans up with former Wall Street professionals.
"We want to hire as many veterans, either Wall Street or military, to grow the business," Cahill added. "And we're talking to more every day."
Contact The Federal Savings Bank, a veteran owned bank, to discuss low cost mortgage options and VA home loan eligibility if you are a veteran looking to purchase a home.