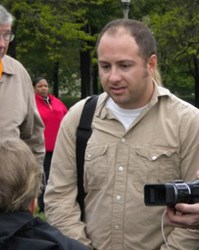 Gold medals aren't really made of gold. They're made of sweat, determination, and a hard-to-find alloy called guts. - Dan Gable
Redmond, WA (PRWEB) August 20, 2013
Steve Simon, a Judoka (Judo athlete) since 2009, is not only knowledgeable of the benefits of Judo but is also a documentary filmmaker with a vision of informing the world about the positive effects of Judo, especially in the blind and visually impaired community.
Here is where the Blind Judo Foundation and its CEO & Co-Founder Coach Willy Cahill, the recent honoree of USA Judo's Lifetime Achievement Award, plays a key role. Cahill is eminently qualified to meet the goals of Feeling Judo with several of his athletes that have trained or are currently training at Cahill's Judo Academy in San Bruno, CA.
Simon is including some of those amazing athletes from Cahill's who are involved with and have benefited greatly from the Blind Judo Foundation.
Many of the blind and visually impaired athletes featured in Feeling Judo have been trained and or coached under the leadership of Willy Cahill. Cahill, whose Academy is dedicated to his father, is an icon in the Judo world and has the reputation for producing some of the finest Judo athletes both sighted and visually impaired in the world.
Steve reached out to Cahill and others Judo coaches about doing a film on visually impaired or blind Judo athletes since engaging in Judo himself. As a filmmaker and Judoka, the idea of filming blind Judo athletes has been a goal for years ever since he first saw a blind Judoka step on the mat.
At first it was difficult to imagine blind individuals engaging in the sport of Judo but at the Judo gym (Dojo) where Steve trains, he met a blind Judoka and was overwhelmed with what Judo was doing for this one individual. If Judo has such a positive and profound effect on one blind person, what must it be like for others who compete in such a demanding sport be both physically and mentally?
Here was the seed of producing a documentary touting Judo for all blind and visually impaired and the overwhelming positive effect it has on their lives beyond the Dojo. Steve reached out to the Blind Judo Foundation and Ron C. Peck, CFO & Co-Founder to further authenticate Judo training for the blind highlighting athletes of Cahill's Judo Academy.
Before starting the documentary, Simon didn't have much experience or association with blind and visually impaired. It didn't take long before he realized there were only slight differences between the sighted and the visually impaired and their ambitions and goals in life. Simon discovered there were many misconceptions about blind people that the Feeling Judo documentary will dispel.
Simon has found that the Judo community is friendly and inviting to all that have an interest and desire in learning and practicing the sport of Judo especially for the visually impaired.
Steve is a graduate of Grand Valley State University's film and video program and has worked on a variety of films. One short film "Life Amended" was a selection by the 2011 Chicago REEL Short Film Festival and the 2011 Sycamore Film Festival.
The Blind Judo Foundation, Coach Willy Cahill and his staff of instructors have received Simon with open arms in his desire to open the world of Judo to the blind and its inherent benefits that transcend Judo itself.
There is more filming to be accomplished with a full release of Feeling Judo in 2014 for the world to see. To learn about Feeling Judo visit their website.
The Blind Judo Foundation is a nonprofit 501(c) (3) organization whose mission is to empower the lives of blind and visually impaired children, young adults along with our blind and visually impaired military men and women using Judo as the tool for success. Their vision is to introduce Judo to all blind and visually impaired regardless of race, creed, color or nationality.
Please consider making a tax exempt donation to help support a blind or visually impaired individuals get introduced to the sport of Judo. Questions can be directed to Ron C. Peck at roncpeck(at)blindjudofoundation(dot)org or by calling 1-425-444-8256