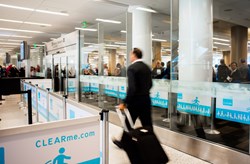 CLEAR's biometric solution cures one of the great bottlenecks in travel – and transforms the experience through airport security - Caryn Seidman Becker, Chairman and CEO of CLEAR
New York, NY (PRWEB) August 19, 2013
CLEAR's biometric identity verification solution will now expedite traveler services at Norman Y. Mineta San Jose International Airport (SJC) starting in September 2013. SJC travelers will enjoy the fastest, most predictable way through airport security, breezing through in five minutes or less on average, using CLEAR's biometric platform and members-only lanes.
"We are excited to bring CLEAR to San Jose, a city that appreciates cutting-edge technology, and grow our footprint in the Bay Area," said CLEAR Chairman and CEO Caryn Seidman Becker. "CLEAR's biometric solution cures one of the great bottlenecks in travel – and transforms the experience through airport security."
The San Jose launch is the ninth airport addition to CLEAR's growing national network and expands the Bay Area presence. Additionally, two of the top 10 most popular destinations from San Jose (Denver & Dallas) are already CLEAR airports. This, in addition to the launch of CLEAR at both Houston airports (IAH and HOU) in November 2013 will further drive the powerful network effect for current and future CLEAR members.
"We're pleased to once again offer CLEAR's cutting-edge and efficient pre-screening service to travelers," said Bill Sherry, Director of Aviation for Mineta San José International Airport. "We were the first Bay Area airport to offer CLEAR in 2007, and now is the ideal time to resume this service as passenger traffic at Silicon Valley's airport is on the rebound due to more air service choices and an improving economy."
Sherry added, "Our continued focus for Silicon Valley airport customers is to ensure they have a world-class experience in our terminals. In particular, CLEAR allows frequent flyers more time at home or the office just prior to traveling, and a quick, secure and customer-friendly way through the airport security screening process."
Certified by the Department of Homeland Security as Qualified Anti-Terrorism Technology, CLEAR transforms the travel experience by allowing members to use their biometrics (fingerprint or iris) to speed through security at major US airports. CLEAR membership is only $179 a year for unlimited use. Members can add their spouse or partner for an additional $50, and children under 18 always fly free through the CLEAR lane. Military and corporate discounts are also available.
About CLEAR
CLEAR uses biometric technology to identify members and speed them through airport security in under five minutes on average, effectively eliminating lines and transforming travel. CLEAR's secure technology platform delivers certainty of speed and the highest level of service to members at the airport, while also enhancing airport security.
CLEAR operates at San Francisco, Denver, Dallas-Fort Worth, Orlando international airports, San Antonio International Airport, and Westchester County Airport in New York. CLEAR has a growing base of over 250,000 members nationwide and has already been used over one million times. CLEAR is currently expanding to bring its timesaving, secure biometric technology (fingerprint and iris technology) to airports around the country and is now integrated with TSA PreCheck in SFO, DEN and MCO. Enrollment is fast and easy and can be done at any of CLEAR's enrollment centers (http://clearme.com/enrollment-centers). For more information on how CLEAR is changing the way people travel, visit http://www.clearme.com.
About Mineta San José International Airport
Mineta San José International Airport (SJC) is Silicon Valley's airport, a self-supporting enterprise owned and operated by the City of San José. SJC served 8.3 million passengers in 2012, and offers approximately 135 daily flights on 13 domestic and international carriers to 30 nonstop destinations.
The airport's $1.3 billion comprehensive modernization project, completed in 2010, makes SJC the most technologically advanced airport in the nation and the first terminal awarded LEED Silver certification for environmental sustainability. Silicon Valley's airport is located in San José, California's third largest city and the nation's tenth largest city. Visit http://www.flysanjose.com/fl .