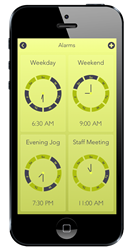 We designed WakeBright to be the most beautiful and functional alarm clock app available in the Apple App Store.
Chicago, IL (PRWEB) August 26, 2013
One of the most popular alarm clock apps for the iPhone is celebrating a major download milestone with a one week free download promotion. WakeBright, which is normally $0.99, will be free from Monday, August 26th through Monday, September 2nd. Just in time for students that are headed back to school and anyone else that needs a great alarm clock app after the long holiday weekend.
WakeBright is one of the most beautiful and easy to use alarm clocks available. The breathtaking design is clean, functional, and easy to use. It's also completely customizable with a variety of interface colors for day and night.
WakeBright is also a personal assistant providing spoken narration of daily events, weather, and reminders. Get a summary of your schedule in the morning and don't miss a class or an important meeting. WakeBright also automatically adjusts based on the local time zone and provides schedule updates accordingly, a must for any business traveler.
Tired of waking up to the same old alarm clock buzzer? Create custom alarms that play iTunes music, Pandora channel selections, or a wide variety of alarm tones.
James and Susan Ditmore, the creators of WakeBright, are pleased with the success of WakeBright and want to give more people an opportunity to experience it. "We designed WakeBright to be the most beautiful and functional alarm clock app available in the Apple App Store. Now, we are pleased to offer it free for a limited time."
WakeBright Key Features:

Designer interface
Spoken narration of daily events, weather, reminders, and date
14 alarm sounds (including standard alarms or more gentle nature sounds)
iPhone music library and Pandora integration
Day & night mode and fully customizable colors
Daily weather preview and seven day detailed forecasts
WakeBright is regularly $0.99 USD. WakeBright is available worldwide from Apple's App Store: http://bit.ly/WakeBrightApp and visit http://www.wakebright.com for more information.
Company Description:
Isotopy, Inc. is mobile development consulting firm that designs and develops a variety of consumer and enterprise mobile applications. Serving a wide range of businesses, Isotopy creates unique mobile applications specifically designed to meet the needs of their customers.
If you would like further information on WakeBright, please contact:
Todd Musgrove
Essential App Marketing
Phone: +1-312-543-1156
Email: todd(at)essentialappmarketing(dot)com