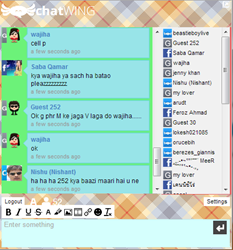 Houston, TX (PRWEB) August 20, 2013
Approximately six months have passed since Chatwing introduced Google and Yahoo login methods for its chat app. According to Chatwing's team of researchers and strategists, the social media login methods became high in demand. As the developers introduced the newest Chatwing 3.0, they also improved the social media login efficiency.
In the version 3.0, web users can link their social media accounts swiftly and effectively. Gone are the days wherein users must wait for few seconds before their login methods are verified. Additionally, the Google and Yahoo methods were also tweaked so e-mail integration will become twice as smooth.
Based on the turnaround of Chatwing researchers, e-mail marketers have been using the Chatwing chat box since the introduction of the social media improvement. The connectivity offered by the application is unparalleled, resulting into 75% more closed leads. Product exposure is also imminent, since web users can share their opinions, questions, and insights.
"It is all about social media connection," Mike Diamond said. He is one of the core developers of Chatwing app, and also a chat room tester for Wordpress sites. "Without social media, any online business is lacking pizzazz. It is true that we have received report queries about login bugs, but we have fixed it in this new version. Chatwing has never been this progressive."
Additional services were also included, such as Premium Features. Through these features, web users can even expand their chat room usage and experience.
About Chatwing.com
Chatwing.com specializes in the new field of website chat. Over years, the Chatwing team has introduced live chat widget for hundreds and thousands of blogs. The Chatwing application bridges people from many parts of the world, creating global synergy through the Internet. The shout box can be installed in just seconds, and it can be used for varying purposes such as leisure and Internet marketing. It also allows a user to customize the size, color, and name of the widget. Chatwing is 100% free for everyone.