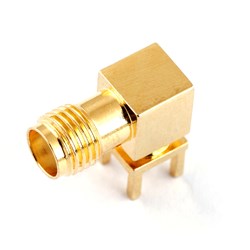 (PRWEB) August 18, 2013
Recently, RFcnn.com, a renowned RF connectors manufacturer, has launched a special offer on its high end SMA RF connectors (see: http://www.rfcnn.com/SMA-RF-Connector.html). These items can now be purchased at discounted prices, up to 30% off.
The RF connectors are electrical connecting devices used with radio frequencies of multi-megahertz range. Their prime use is with coaxial assembly cables. The company is popular for its range of high quality RF connectors, and especially the SMA RF connectors. These are basically semi precision coaxial RF connectors having an electrical impedance of about fifty ohms.
Like other products supplied by the company, the SMA connectors are also of the highest quality and have distinct features. They can be used with wireless communication equipment, GPS navigation kit, antennas and so on. The company ensures to produce the best products and this is reflected in the fact that it has high end machinery from around the world set up in its manufacturing units. About its high tech machinery the company website states, "The company is equipped with a lot of the world most advanced equipment and apparatus for production and testing such as the US made Harding CNC lathes (Cobra 42, GT27) and the 2000 VMC1000 vertical milling center, the Hewlett Packard network analyzer , the Swiss computerized cable stripper, the Canadian pneumatic printer and Huagong brand laser. All of the products are guaranteed by quality under ISO9001 and UKAS."
This is not all; these fine quality SMA connectors are being supplied at heavy discounts which make them priced at 50% less than most of the other SMA connectors available in the market.
Zhenjiang Fourstar Electronics Co. LTD is a China based company. It operates through its website RFcnn.com. The company deals in producing RF connectors and passive devices. Its high quality products are supplied at very cheap prices.
More details about the company's high quality rf connectors can be found at http://www.rfcnn.com/SMA-Female-For-PCB-Board-Edge-Soldering-RF-Connector-97.html .