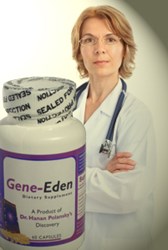 The idea of HPV in sperm is disgusting. I believe men would be eager to avoid this situation. polyDNA recommends that these men protect their sperm by using Gene-Eden-VIR against the latent HPV virus. – Mike Evans, polyDNA
Rochester, NY (PRWEB) August 18, 2013
HPV has been found in the sperm of infected men. This can harm a man's ability to have children. This is particularly true in those who have both HPV (human papillomavirus), which is the most common sexually transmitted viral disease (STD), and Chlamydia trachomatis (Ct), which is the most common bacterial STD (1).
The German and Italian researchers who conducted the study wrote that, "A high incidence of HPV infection has been reported in sperm from sexually active men… and from infertile patients (1)." In addition, they wrote that sperm in HPV and Ct infected men did not move or "swim" like healthy sperm.
"We found that patients with HPV and Ct co-infection had lower percentages of motile sperm and normal morphological forms when compared with those infected with Ct only. In addition, the HPV infection was an independent risk factor for subfertile status when associated with Ct infection (1)." This means HPV was associated with infertility even without a Ct infection.
In one study published in 2010 in the journal Fertility and Sterility, researchers found that "the (HPV) virus was localized at the sperm head (2)." Another study published in 2009 in PLoS One showed that "the (HPV) virus was (also) present on the surface of sperm cells (3)."
Men should be aware that even if they don't have any physical symptoms, HPV may still be harming their ability to reproduce. These men should also be aware that even without physical symptoms, their sperm can infect their partners. The researchers reported that "a high incidence of HPV infection in sperm was found not only in individuals with risk factors but also in asymptomatic infertile men (1)."
"The idea of HPV in sperm is disgusting. I believe men would be eager to avoid this situation. polyDNA recommends that these men protect their sperm by using Gene-Eden-VIR against the latent HPV virus." – Mike Evans, polyDNA
Gene-Eden-VIR is an oral antiviral proven to be effective against the latent HPV in a recent post-marketing clinical study.
That study confirmed that people can effectively fight the latent oral HPV with Gene-Eden-VIR. Interested individuals and doctors can read the abstract of that study on the Center for the Biology of Chronic Disease's (CBCD) website (4).
The Gene-Eden-VIR post-marketing clinical study showed that individuals infected with the latent oral HPV reported a safe decrease in their symptoms (4). This is because Gene-Eden-VIR targets the HPV while it is still dormant (latent). In other words, Gene-Eden-VIR helps the immune system fight the virus before it becomes active and causes symptoms.
Each ingredient of Gene-Eden-VIR was chosen through a scientific approach. Scientists scanned thousands of scientific and medical papers published in various medical and scientific journals around the world to identify the safest, most effective natural ingredients that target the latent form of HPV. (5)
To learn more about Gene-Eden-VIR, visit http://www.gene-eden-kill-virus.com. All orders of Gene-Eden-VIR are completely confidential, and no information is shared or sold to any third party. Privacy is assured.
References:
(1) http://www.ncbi.nlm.nih.gov/pubmed/23906072
(2) http://www.ncbi.nlm.nih.gov/pubmed/19100537
(3) http://www.ncbi.nlm.nih.gov/pubmed/?term=PLoS+One+2009+HPV+sperm
(4) http://www.cbcd.net/Gene-Eden-VIR-Clinical-Study.php
(5) http://gene-eden-kill-virus.com/studies.php
polyDNA is a biotechnology company that develops dietary supplements using the unique scientific method developed by Dr. Hanan Polansky, which is based on Computer Intuition.
In addition to his unique scientific method, Dr. Polansky published the highly acclaimed scientific discovery, called Microcompetition with Foreign DNA. The discovery explains how foreign DNA fragments, and specifically, DNA of latent viruses, cause most major diseases.
polyDNA developed Gene-Eden-VIR , an antiviral natural remedy that helps the immune system kill latent viruses.