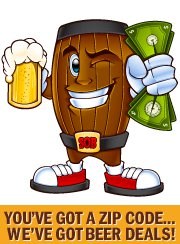 Google -- for beer.
Houston, TX (PRWEB) August 20, 2013
Consumers can visit a site like Amazon to see the lowest price on just about anything. GasBuddy.com gives people the lowest local price on gas. Travel site aggregators like Kayak provide rock-bottom prices for hotel and airfare and NexTag lets consumers find the best deals on electronics.
"What about beer?" asked Mark Davidson, CEO of SaveOnBrew, a new search engine for retail beer prices.
"Our website fills a huge void that previously existed on the internet," Davidson explains. "You could get prices on just about anything online, but when it came to beer, all you had were a couple of crowd-sourced lists that were not up-to-date and not at all user-friendly."
Previously, Davidson and his friends in Houston, Texas spent Sunday mornings scouring local ads and calling beer retailers in the area to inquire about pricing on their favorite beer brands. "We noticed two things while going through our weekly ritual. One – our other friends caught wind of what we were doing and began calling us to find out where they should shop. And two – it became tedious to do, since prices and sales are constantly changing."
The group wondered what would happen if they could get retailers to voluntarily send in their beer prices each week and they could publish their results on a website that their friends could consult before shopping. In a relatively short amount of time, the site took off from a Houston-based endeavor to a nationwide behemoth that can best be described as "Google -- for beer."
"Our motto is: you've got the zip code, we've got the beer prices," Davidson said. "Since the site was launched, we've posted more than a thirty-five million beer deals. At any given time, we have over 350,000 published deals from thousands of retailers nationwide. We're constantly developing new tools to help consumers."
Davidson explains that the company just released 'beer alerts!' -- a tool that lets customers set preferences and have deals mailed to them. "It's really the evolution of the product," Davidson says. "Now people get the deals they want delivered right to their inbox. It doesn't get much better than that." Consumers can filter results by brand, type of beer, container type, retailer name, or retailer proximity.
"Our goal is to fundamentally change the way that consumers buy beer and the way consumers get information about beer," Davidson says. The site allows consumers to access a wealth of information before they leave home and, ultimately, enables them to save money.
"Life is too short to drink cheap beer, so we help people pay less for the beer they love," Davidson adds. "We've got a great audience who writes in regularly, letting us know about hot spots to buy beer in their zip codes and we're always following up with these retailers to see if they're interested in a free advertising opportunity."
It's the "free advertising" bit that makes SaveOnBrew such a gold-mine for beer retailers. To list their beer specials on the PC and mobile-accessible site, a retailer need only provide the team with a list of beer sale prices each week – or offer up a link to an online ad circular. The mobile version of the website also gives consumers maps to the nearest retailer selling beer on sale.
Mike and Mark Lenzi of Franklin Liquors in Massachusetts report a positive impact from their relationship with SaveOnBrew. "We're a small, family-owned business that sells beer. We're glad people finally know that our prices are the same – and in many cases better – than big box stores and supermarkets in the area."
Beer retailers are invited to contact SaveOnBrew directly, while consumers can search for the lowest prices on their favorite beer brands at http://www.SaveOnBrew.com.
# # #
Founded in 2010 to help thirsty beer drinkers across the United States find the lowest advertised prices for one of the world's most popular beverages.