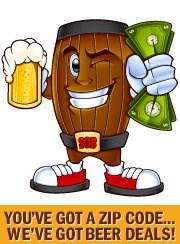 If there's a GasBuddy for local fuel prices, why can't there be a website for local beer prices too?
Houston, TX (PRWEB) August 21, 2013
The problem with beer prices is that they are always changing – sometimes daily. Yet, the founders of SaveOnBrew.com feel they've found a way to publish reliable data sets for every single zip code in America.
"It's an enormous task," confesses founder Mark Davidson. "At first, we thought, 'Oh we'll just crowdsource like everyone else – and have users submit retail beer prices in their areas.' But we found that other sites using crowdsourced data were complete garbage. Posts were erratic and unreliable. So, basically, we took the coupon-clipping approach we used at home and blew it up on a macro level."
SaveOnBrew's data collection staff gathers information from thousands of online ad circulars, in addition to retrieving information directly from brewers and beer retailers who email their sales in each week. Through an elaborate network of beer sellers, SaveOnBrew is able to update the site on a daily basis. Information also pours in from the users themselves who occasionally find that their favorite local beer store is not represented on the site.
"We know that our site is only as good as our information, so accuracy is paramount," Davidson says. "We always had a reputation among our friends as being the 'go-to' people for beer deal information, but it's nice to see that we're now functioning as that for hundreds of thousands of people nationwide. We figure if there's a GasBuddy for local fuel prices, why can't there be a website for local beer prices too?"
In addition to providing beer price data, SaveOnBrew has also garnered a strong following by posting humorous images to their Facebook site daily and providing beer fans with a wealth of information via its Beer Blog, which is also updated daily.
More information can be found at SaveOnBrew.com.
# # #
About SaveOnBrew.Com: Founded in 2010 to help thirsty beer drinkers across the United States find the lowest advertised prices for one of the world's most popular beverages.