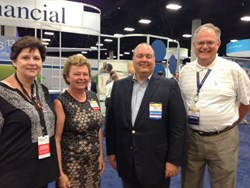 San Diego, CA (PRWEB) August 19, 2013
LPL Financial LLC, the nation's largest independent broker-dealer, a leading RIA custodian, and a wholly owned subsidiary of LPL Financial Holdings Inc. (NASDAQ: LPLA), today announced that focus13, its annual meeting of financial advisors and industry professionals from across the U.S., opened on Sunday, August 18, at the San Diego Convention Center and will run through Wednesday, August 21.
One of the largest industry events of its kind, this year focus13 will bring together 3,000 LPL Financial independent financial advisors and institution program managers, as well as 900 leading product sponsors and top industry experts, in addition to LPL Financial management and support professionals. Conference attendees will have the opportunity to attend informative workshops and panel discussions, participate in networking sessions and gain perspectives on leadership, collaboration and the global economy from keynote speakers, such as General Colin Powell and Grammy-award winning composer and conductor Eric Whitacre.
"The theme of focus13, 'Making a Difference,' reflects the importance of our mission of enabling our clients to help investors pursue their aspirations in life," explained Mark Casady, Chairman and CEO of LPL Financial. "We are gathering in San Diego to help our clients accelerate the delivery of this critical service to even more Americans through smart growth, efficient practice management and valuable investment insights—all delivered through the best possible advisory experience."
Open to all LPL Financial-affiliated independent advisors and institutions, the conference also gives advisors an opportunity to obtain ongoing learning credits toward meeting industry requirements.
Conference Highlights
The four-day event will feature a wide range of activities, including:

Opening Concert by Train – On Sunday evening, August 18, the conference kicked off with a private concert by Grammy Award-winning rock band Train.
High-Profile Keynote Addresses – The conference will feature distinguished outside guest speakers, including former U.S. Secretary of State General Colin Powell; Zanny Minton-Beddoes, Economics editor for The Economist; and Eric Whitacre, Grammy-winning composer, conductor and creator of the ground-breaking Virtual Choir.
Senior Management-Led General Sessions – The general sessions will be highlighted by presentations from senior LPL Financial managers speaking about the latest industry trends and investment insights.
The first ever, 12,000-square foot "Digital Town Square", where advisors and institutions can demo and view the new online offerings and solutions and interact with LPL Financial's technology team.
Breakout Sessions and Seminars – More than 250 breakout sessions and seminars will be presented on a wide range of topics, from sharing best practices to serving the needs of specific client demographics and learning about the latest LPL Financial technological tools and practice management resources.
One-on-Ones with LPL Financial Management and Business Coaches – Throughout the conference, advisors and program managers will be able to meet one-on-one with LPL Financial senior management as well as with expert practice coaches and consultants.
Joan Khoury, Managing Director and Chief Marketing Officer of LPL Financial, said, "Our focus conferences are known for generating a great opportunity to connect, learn and engage with other advisors and institutions and LPL leadership. We showcase top-tier, inspirational speakers and most importantly, provide intensive practice-management learning opportunities. We also roll out the red carpet so that our clients and their families can enjoy themselves. Follow us on the conference website and on Twitter at #LPLFocus."
Pre-conference Community Support and Philanthropic Event with the USO
On Saturday afternoon, August 17, the conference was preceded by a community charity event hosted by the LPL Financial Foundation at the San Diego USO. A group of 50 LPL Financial advisors were joined by LPL Financial executives to provide financial and career guidance to members of the U.S. Armed Forces and their families, and to pack homecoming goody bags for distribution to servicemen and women. The group packed 1,000 homecoming gift bags and spent the early part of the evening providing guidance and counsel on the topics of financial planning, savings and retirement.
The event supported the Foundation's mission of providing economic empowerment for at-risk individuals and families in the communities where LPL Financial employees live and work.
"We are delighted to partner with USO San Diego on this volunteer event to help them enhance the quality of life for local U.S. Armed Forces personnel and their families," said Mr. Casady.
About LPL Financial
LPL Financial, a wholly owned subsidiary of LPL Financial Holdings Inc. (NASDAQ: LPLA), is the nation's largest independent broker-dealer (based on total revenues, Financial Planning magazine, June 1996-2013), a top RIA custodian,* and a leading independent consultant to retirement plans. LPL Financial offers proprietary technology, comprehensive clearing and compliance services, practice management programs and training, and independent research to more than 13,400 financial advisors and approximately 700 financial institutions. In addition, LPL Financial supports more than 4,600 financial advisors licensed with insurance companies by providing customized clearing, advisory platforms and technology solutions. LPL Financial and its affiliates have approximately 3,000 employees with primary offices in Boston, Charlotte, and San Diego. For more information, please visit http://www.lpl.com
Securities and Advisory Services offered through LPL Financial. A Registered Investment Advisor, Member FINRA/SIPC
*Cerulli Associates: RIA Service Agent Survey Q1 2013
The Keynote speakers are not affiliated with LPL Financial
Connect with Us!
https://twitter.com/lplfinancial
https://www.linkedin.com/company/5294
https://www.facebook.com/LPLFinancialLLC
http://www.youtube.com/user/lplfinancialllc
Listen to us on Blog Talk Radio
LPLA-C
LPL Financial Media Contact
Tony Vignieri
(858) 909-6698
tony.vignieri@lpl.com