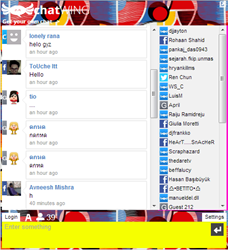 Chicago, IL (PRWEB) August 21, 2013
Every year, many children are gaining access to the Internet. This fact is based on the way children connect to various online portals available. Seeing opportunity to help kids who want information, the Chatwing Team created a chatroom that can be used freely in any website or blog. This chat tool enhances a kid's communication experience, and also ensures a secured environment. It can also be customized in terms of colors, sizes, and certain parameters.
Chatwing's simple chat app is effective for kids because it has adorable and relaxing colors, depending on the preferences of the user. Color combinations are possible, along with various font styles and border appearance. Additionally, the user can upload background images to keep the chat software as entertaining as possible.
Recently, some Chatwing researchers have started talking to people who own websites that have discussions related to children. The company observation pointed out that kids tend to talk about games, animals, and environment. With the help of the efficient chat software, the kids can share their questions easily and they can get answers right away. This will contribute to their learning and discovery. They can also ask research guidance from adults who happen to visit the chatroom regularly.
With this advancement to the kids' niche, Chatwing developers are certain that they are contributing to the betterment of the cyberspace. Better information relay can be achieved in few years, and greater leverages can also be offered to web users.
About Chatwing.com
Chatwing.com specializes in the new field of live website chat software. Over years, the development team has introduced live chat widget for hundreds and thousands of blogs. The application bridges people from many parts of the world, creating global synergy through the Internet. The shout box can be installed in just seconds, and it can be used for varying purposes such as leisure and Internet marketing. It also allows a user to customize the size, color, and name of the widget.