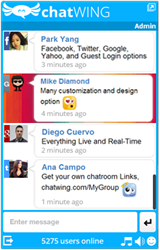 San Francisco, CA (PRWEB) August 18, 2013
Armed with new information about the world of investments, Chatwing.com has recently created a chat app that is capable of rolling out information in numerous ways. The application's primary function is to spark global connectivity in any website and help web users gain communication advantage. Social media is also a part of the chat tool, greatly benefiting web marketers and anyone in the cyberspace.
The realm of investments is considered as one of the important niches today. Everyone has specific ideas about investments, especially professionals and critics. Based on the short study conducted by the Chatwing Chat Software Team, various types of investments ballooned by up to 60 percent, giving opportunities to many people. Through the company's premier chat app, people can find investment tips without wasting time.
The Chatwing chat box has a social media leverage function, allowing users to log in through their Facebook and Twitter accounts. Google and Yahoo login options were recently added to grant higher opportunity to more users. Now, investment tip seekers can gather information in social networking sites, make new friends, and gather insights. Investment websites can also utilize Chatwing's real-time communication advantage to generate traffic on a continuous basis.
Just like the investment niche, the Chatwing chat software will have many innovations in the coming year. These innovations will contribute to the overall performance of the chatroom, and can also ensure the growth rate of subscribers and registered users. To keep users properly informed, the team will post important updates in the Chatwing Facebook page.
About Chatwing.com
Chatwing.com specializes in the new field of live website chat. Over years, the development team has introduced live chat widget for hundreds and thousands of blogs. The application bridges people from many parts of the world, creating global synergy through the Internet. The shout box can be installed in just seconds, and it can be used for varying purposes such as leisure and Internet marketing. It also allows a user to customize the size, color, and name of the widget.