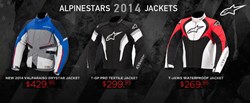 We're excited to be one of the first to offer the new Alpinestars 2014 motorcycle collection to our customers.
West New York, NJ (PRWEB) August 19, 2013
Motochanic.com, an online Alpinestars motorcycle gear dealer, announces the availability of the new 2014 Alpinestars motorcycle collection. The collection includes new Alpinestars Jackets, such as the Quasar textile jacket, and new Alpinestars Boots, such as the all new SMX-6 boots. Also new in the collection is Alpinestars adventure motorcycle gear including the Valparaiso Drystar jacket and pants. Looking for Alpinestars in New York? Motochanic also has a retail location near New York City featuring the new motorcycle gear. This collection not only has the classic updates and improvements to existing products like the GPX leather gloves, but it also has a lot of new and exciting products to support a wide range of use cases.
Julio Grullon, Motochanic Co-Founder:
"We're excited to be one of the first to offer the new Alpinestars 2014 motorcycle collection to our customers."
The collection includes updates to current products, among them, the Alpinestars GP-Tech leather gloves. These top-of-the-line MotoGP-proved motorcycle race gloves feature kangaroo and cow leather throughout, TPU palm sliders, and DFS knuckle protection. Premium features also include strategically place Kevlar lining, vented back hand TPR and perforated leather panels for optimum airflow and ventilation to keep the rider cool. The next generation Tech-7 boots for off-road/motocross boots features TPU shin-plate with Velcro closure for a greater range of fitment, and the new triple buckle closure system includes polymer buckles plus aluminum frame with innovative self-aligning, quick release closures for customized secure fitment.
Brand new items from the collection include the Alpinestars T-GP Pro Textile Jacket which comes in three different color variations; a Black/Anthracite, Black/White/Fluorescent Yellow, and Black/White/Red T-GP Pro. This all-season motorcycle textile jacket features CE certified shoulder and elbow protectors, pockets for chest and back protectors (chest and back protectors sold separately), removable full thermal liner, zippered air intakes on the shoulder, two zippered hand pockets, an inner waterproof wallet pocket, and a waist connection zipper to attach to riding pants. Among the brand new boots are the Alpinestars SMX-6 Boots. These boots feature a TPU ankle brace that provides support and structural integrity, a new exclusive to Alpinestars compound rubber sole that promotes water run-off and grip. This motorcycle boot comes in a perforated version which also flows plenty of air, including air vents on the heel and shin, and mesh inserts.
Alpinestars is also introducing new motorcycle adventure touring gear including the "New Land Gore-Tex" and "Valparaiso Drystar" jacket and pants. The New Land Gore-Tex jacket features a TEFLON coated outer shell, with a waterproof and breathable Gore-Tex insert, removable CE certified shoulder and elbow protectors, zippered air intakes and exhausts on the arms, four external pockets, and internal pockets plus a wallet pocket. The Valparaiso Drystar jacket features a removable Drystar membrane and a removable thermal liner, a jet ventilation system on the front and back of the jacket, a waist adjuster, two waterproof pockets plus two cargo pockets, and a large back pocket for storing the removable liner. Both jackets also include a connection zipper to attach to riding pants.
For more information on Alpinestars motorcycle gear, please call or visit our website.
About Motochanic:
Motochanic is the premier motorcycle gear dealer in the New York, New Jersey and Connecticut Tri-State area. Motochanic specializes in motorcycle helmets and riding apparel, including motorcycle jackets, boots, gloves and pants from premium brands like Arai, Bell, Dainese, AGV, Fox Racing, Gerbings heated gear, Rev'it, Shoei, Schuberth and Klim. Featuring products and accessories for motorcycle gear segments including street bikes, cruisers, adventure touring, off-road/motocross, and snowmobile. Founded in 2011, Motochanic is a privately held company based in West New York, New Jersey. For more information on Motochanic, please call 877-544-6686 or visit http://www.motochanic.com.