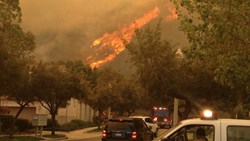 The most important lesson we learned [is]... during an emergency, [the CSUCI police department's] first priority is CSUCI students, faculty and staff, not University Glen residents.
Camarillo, CA (PRWEB) August 20, 2013
Following the Camarillo fires which began May 2nd in Camarillo Springs, the University Glen residents adjacent to CSU Channel Islands campus will participate in three days of valuable certification instruction on August 24, September 7, and September 14.
University Glen CERT Team Leader David Seagraves said, "The most important lesson we learned about emergencies going forward is the CSUCI Police Department patrol the entire property normally. However, during an emergency, their first priority is CSUCI students, faculty and staff, not University Glen residents. Our community must have its own volunteer safety net to insure a smoother transition than what we experienced during the fires."
Seagraves adds, "Bringing CERT to University Glen is a very important step toward making our community safer after the fires opened everyone's eyes." Emergency training includes video and live instruction in triage, first aid, extinguishing fires, search and rescue, cribbing (to remove injured persons from beneath heavy objects), terrorism response, and more. During emergencies, fire and law enforcement personnel may request the services of CERT-trained residents to participate as 'victims' for incident command simulations on the final day of training.
CERT instruction is provided by Ventura County firefighters one Saturday each week for three weeks, from 8 a.m. to 5 p.m. CERT classes are held at the Ventura County Fire Department (VCFD) Training Center at Camarillo Airport located at 102 Durley Avenue, Camarillo, CA 93010. Everyone participating in CERT receives a course manual, a vest, field gloves, helmet, goggles, and a flashlight. Attendees receive one hour for lunch and are responsible for their own meals. A CERT facility map, Q&A sheet, FEMA articles, the first University Glen CERT newsletter, and other emergency information can be found on Facebook at http://www.facebook.com/UniversityGlenCERT.
Seeking to fill the first classroom, Seagraves shares "As an added one time only incentive, the first ten people to enroll in the class and 'Like' the University Glen CERT Facebook page will receive a free gift – a compact emergency pack containing food, water, flash light, whistle, poncho, blanket, wipes, ointment and bandages – compliments of California Volunteers and Southern California VOAD."
Each CERT training classroom is limited to 30 participants and is open to all area residents at least 18 years of age. Because CERT is funded by the Department of Homeland Security, training and materials are provided free of charge. Any missed classes can be made up during the next series of classes dated October 19, October 26, and November 2, 2013. Previous notification is required.
For more information and to participate in CERT training, please contact David Seagraves at 310-490-9557, or at UniversityGlenCERT(at)gmail(dot)com.