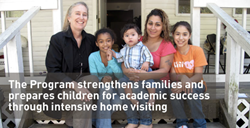 Lakewood, CO (PRWEB) August 19, 2013
Members of the media are invited to attend a joint press conference of The Jefferson Foundation and the Parent-Child Home Program Jeffco Advisory Board: On Thursday, August 22, the Foundation will announce the launch of the Parent-Child Home Program Jeffco, an initiative designed to eliminate income-related achievement gaps.
PCHP Jeffco is modeled on the national Parent-Child Home Program, which since the 1970s has provided literacy mentorship for low-income families with young children. The announcement will occur at 10 a.m. at Peiffer Elementary School, 4997 S. Miller Way, Littleton, CO 80127.
"PCHP partnering with The Jefferson Foundation and Jefferson County Public Schools will benefit students not only today, but throughout their entire lives," says Steve Burkholder, a program advocate and former mayor of the City of Lakewood. "It will also help build Jeffco's future work force." The program, which provides home-based mentoring and reading resources for families, has been shown to eliminate income-related achievement gaps among its graduates.
PCHP Jeffco will be the first Colorado replication site for the national program. Locally, the program will serve families living in neighborhoods surrounding Alameda and Bear Creek high schools. The former, which recently posted impressive gains in graduation rates, serves a neighborhood in Southeast Lakewood that has struggled with poverty in recent decades, as have other Jefferson County neighborhoods.
The program will serve families of 126 two- and three-year-olds over the next three years. Child progress will be monitored by professional literacy mentors, to ensure the development of new reading and language skills. Children who are proficient readers early in life are more likely to graduate high school on time and go on to college, putting them at an advantage for high-paying jobs as adults.
"With the implementation of Common Core across the country and new expectations for student academic achievement, programs like this one ensure that all our students, regardless of family income, have a chance to succeed," said Katie Tiernan, the executive director of The Jefferson Foundation.
As an added benefit, when families graduate from the program, parents of PCHP-Jeffco children can become mentors for other families. The parents-as-mentors model both cultivates trust in the program and provides parents with skills and experiences they can leverage into living-wage jobs, breaking the cycle of poverty.
Kick-off Details:

When: 10 a.m. on Thursday, August 22, 2013
Where: Peiffer Elementary School (4997 S. Miller Way, Littleton, CO 80127)
Event will include: Brief, prepared statements from grassroots supporters and early childhood educators; information about program funding and community investment; tips for parents who want their young children to become strong readers; and photo opportunities with young students learning to read and write in Jeffco classrooms.
For more information about The Jefferson Foundation's programs, please visit http://www.jeffersonfoundation.org. For details about the Parent-Child Home Program, visit the national website, http://www.parent-child.org/.
Media Contact:
Katie Tiernan, Executive Director, The Jefferson Foundation
(w) 303.982.2261 / (c) 303-437-6914 / katietiernan(at)jeffersonfoundation(dot)org