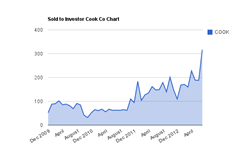 Chicago, IL (PRWEB) August 19, 2013
Oh what a change one month can make. According to statistics compiled by the Illinois Foreclosure Listing Service, July 2013 shows some of the most promising numbers to date in the Chicago real estate foreclosure market. Cook County, for example, has increased the amount of properties sold to investors by 68.62 percent since June. Some of the other counties have done well, too. Though Kane County saw a 20 percent decrease over the past month, Kendall and Will Counties have increased by a whopping 183 and 144 percent, respectively.
An odd trend we've seen this month comes from new foreclosures in the Chicagoland area. From June to July, there was a marked increase in new properties joining the foreclosure market. This is unusual because, on average, an increase in properties coming into the foreclosure market coincides with a decrease of properties sold at auction, which is clearly not the case this month. Still, the increase in new foreclosures on the market is no reason to panic. Though the seven counties (Cook, Will, Dupage, McHenry, Kendall, Kane and Lake) have seen a combined 17.59 percent increase this month, the progress from this time last year is substantial, as well. July 2012 had a much larger number of foreclosures on the market than this July has. In fact, the Chicagoland area has experienced a 60 percent decrease in new foreclosures since last July, which is a good indication that the long-range statistics will be positive, despite July 2013's momentary downturn.
When it comes to REO (Real Estate Owned) properties for the month, there was a definite increase from last month, especially in Cook County, which experienced a 74.97 percent rise since June. An REO property is one that did not sell at the initial auction. In many cases this happens because the outstanding amount left on the loan is more than the current market value of the home. This means that, although the real estate market is slowly improving, it still has a ways to go, and may never again reach the unhealthily high numbers the nation saw during the real estate bubble of 2005 and 2006. From July 2012 to July 2013, however, the number of properties being repossessed by their original lender has gone down 14.55 percent across the Chicagoland counties.
As for the total number of foreclosures off the market this month, either because they were sold to investors or because they were repossessed and became REO properties, the outcome was again a positive one. Cook County lead the overall charge this month (which was a nice change of pace since it's behind the other counties when calculated annually) with an increase of 16.92 percent over June's numbers. All the counties increased their number of completed foreclosures this month except for Kendall, which fell by 9.52 percent. And yet, the long-range numbers continue to encourage since from June 2013 to July 2013 the overall completed foreclosure numbers for all seven counties jumped by 104.99 percent, according to data gathered by the Illinois Foreclosure Listing Service.
####
The Illinois Foreclosure Listing Service (ILFLS.com) is a Chicago-based subscription service that provides up-to-date data on foreclosure filings and related activities throughout the Chicago area, including Cook, DuPage, Lake, Will, McHenry, Kane and Kendall Counties. ILFLS recorders are assigned to every courthouse in the coverage area, which they visit daily to collect the latest data. ILFLS provides a searchable database and a broad array of productivity tools, all designed by and intended primarily for real estate professionals.