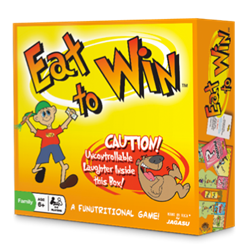 I highly commend both the game and the creative thinking behind it.
Highland, Michigan (PRWEB) August 28, 2013
"Conquering the dual obesity and diabetes epidemics will require multidimensional strategies," says Bert Knitter. "One tool created through true out-of-the-box thinking is the Eat to Win board game."
Bert Knitter sits on the Board of Directors of the National Association for Health and Fitness. He is a recipient of the Glen Swengros Award for significant accomplishments in the realm of physical fitness, and is also a recipient of the President's Council on Physical Fitness Award. Mr. Knitter became aware of Eat to Win's games while attending the National Physical Education Institute July 29 through August 2, 2013.
Mr. Knitter says, "This unique game provides both an enjoyable game for family and friends to enjoy together (family game night—what a concept) as well as a fun way to learn about nutrition. Eat to Win provides parents with a unique way to teach their children valuable lifestyle lessons without nagging them about food choices or exercise habits. I highly commend both the game and the creative thinking behind it."
Jammi (pronounced Jamie) Roscoe, Chief Executive of Eat to Win, says, "We really appreciate the recognition and commendation that Bert Knitter has given our Eat to Win Board Game. It represents another endorsement as we continue in the fight against childhood obesity."
EatToWinGame.com is the place to go to purchase Eat to Win products.
About Eat to Win:
Eat to Win was created by a concerned mom whose own child struggled with being overweight. Child obesity in America has become a major issue. An unhealthy lifestyle is a common problem among children and adults. Eat to Win was created to help encourage nutrition and exercise through fun and active games. Please share your stories with us on Facebook and Like Us to receive a discount! Our games are in agreement with ChooseMyPlate.gov.