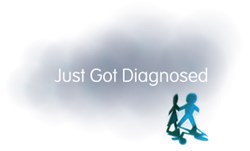 Living with a condition like diabetes, HIV, or cancer often causes us to ask a lot of questions that we haven't really thought about before.
New York, New York (PRWEB) August 20, 2013
Dr. Gary McClain has published a new article, "Seven Ways to Bring More Meaning Into Your Life" on his website, JustGotDiagnosed.com. A specialist in the emotional impact of chronic and catastrophic illnesses, Gary McClain, PhD, developed JustGotDiagnosed.com to address a serious need he saw going unfulfilled; namely, a way for newly-diagnosed patients to receive help in coping with their emotional reactions to their diagnosis. Dr. McClain also blogs on the online patient community site, AllianceHealth.com, where this article was originally published.
"Living with a condition like diabetes, HIV, or cancer often causes us to ask a lot of questions that we haven't really thought about before," McClain said. "The most obvious one is: 'Why me?' Others might include 'What's really important in my life?' and 'How do I find a greater sense of purpose beyond what I am experiencing day to day?' These questions might be referred to as questions of meaning."
McClain's guidelines are presented as eight steps, including:
1. Going into oneself. Meditation, contemplation, prayer. Listening to that "still, small voice."
2. Connecting. Spending time with caring people, who can listen, who care share the hard times and celebrate the good times.
3. Giving. Reaching out to someone who can use some support, being a listening ear, sharing some words of encouragement.
4. Getting inspired. Spending time with an inspirational book or watching videos.
5. Enjoying. Staying involved with activities that give one joy, and adding some new ones as well. Having a good laugh.
6. Being mindful. Practicing being in the present moment, and not caught up in rehashing the past or worrying about the future.
7. Saying thank you. Taking a moment at the beginning of each day by identifying something that one is grateful for.
8. Giving up! One of the greatest lessons of chronic conditions is that we are not in control of every single aspect of our lives.
"Life is a journey." McClain concluded. "Ups and downs, twists and turns. Each day gives us a new opportunity to have a more meaningful life. To find meaning. To create meaning. So seize the day!"
About Dr. Gary McClain and JustGotDiagnosed.com
Dr. Gary McClain is a therapist, educator, patient advocate and author who specializes in working with individuals who have been diagnosed with chronic and catastrophic medical conditions, focusing on issues that include coping emotionally, gathering information, making lifestyle and treatment decisions, managing relationships, and communicating with healthcare professionals. As "Dr. Gary," he blogs on patient social networking boards on AllianceHealth.com. Founded and developed by Dr. McClain, JustGotDiagnosed.com offers information, guidance and inspiration for newly diagnosed patients, their caregivers, and healthcare professionals. His program for newly-diagnosed patients, Prepared for the Road Ahead ™, is focused on the emotional, lifestyle management, communications, and vision for the future. Visit JustGotDiagnosed.com.