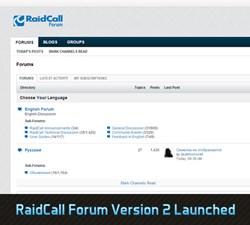 Following numerous improvements on its infrastructure, RaidCall is continuing to improve its online presence by offering a newly designed forum
(PRWEB) August 21, 2013
RaidCall, a leading voice communication solution for gamers, today announced the introduction of the new community forums on its official website.
Following numerous improvements on its infrastructure, RaidCall is continuing to improve its online presence by offering a newly designed forum. Unlike the previous boards the new forums is now based on vBulletin, and will offer a lot more sections in different languages along with the function for users to write their own blog posts.
By enabling the latter feature, we are hoping to encourage users of shared their stories or guides with other users.
The new forum is now available at http://forum.raidcall.com. For more information's on RaidCall and its community, please visit http://www.raidcall.com or our official Facebook page http://www.facebook.com/raidcall
About RaidCall
RaidCall is a leading group communication messenger founded in 2010, with its headquarters in Beijing, China. RaidCall offers extreme low-latency voice conversations, paired with crystal clear voice quality for free.
Further, RaidCall is the title sponsor of one of the World's premier electronic sport tournaments 'ESL RC EMS One' and a sponsor of the 'Intel Extreme Masters'.