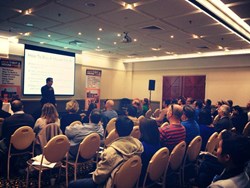 Marketing is about doing something that no one else will do. Its techniques don't have to be wrong or right, but it's has to keep the phone ringing.
(PRWEB) August 23, 2013
"Websites have done a lot in getting the word about Hobart property for sale, but sometimes going back to the basics is more effective when attracting the right home buyers," explained Rick Otton, the owner and director of We Buy Houses, about the increasing reliance of home buyers and sellers with real estate websites.
An Australian real estate website recently asked its 20 million monthly visitors to rank the most popular suburbs for the second quarter of 2013.
West Hobart property and South Hobart real estate consistently made it in the top 5 suburbs in Tasmania for 3 consecutive months, while North Hobart got the top spot in the latest rankings.
Mr. Otton advised people, who are interested in buying and selling Hobart property, that going with the trend doesn't help people break out of the clutter, and that if they want their message to stand out they must do things differently.
"Marketing is about doing something that no one else will do. Its techniques don't have to be wrong or right, but it's has to keep the phone ringing," Mr. Otton advised to the listeners of Creative Real Estate iTunes podcast.
"Students of creative strategies, for example, use what I call 'ugly marketing' techniques," Mr. Otton said. "One of the most common forms of 'ugly marketing' is through making homemade signs and placing them in any location where it can easily attract the attention of people."
"One of my students from the U.K. placed 20 signs in the front yard of a house he wasn't able to sell, and by next week his 'stunt' made it in the front page of the newspapers because of the complaints from his neighbours," he shared.
"Unsurprisingly, he got a lot of phone calls and was able to sell a lot of houses because he wrote his phone number and email address on the signs," he added.
"At the end of the day, many of students don't mind driving around with painted sandwich boards or cars because it's what gets the money into their bank accounts," Mr. Otton explained.
Log on to http://www.howtobuyahouseforadollar.com/ now to get your free seats to Rick Otton's Hobart real estate event on 27 August.
About Rick Otton
Rick Otton has spent decades making money by snapping up inexpensive real estate and putting it to work building wealth, and teaching others to do the same.
He is the founder and CEO of We Buy Houses, which operates in the US, UK, Australia and New Zealand, and through this business he puts his strategies to work every day.
Mr Otton received his start in alternative real estate investment in 1991 in the US, and within a year acquired 76 properties. In subsequent years, he made a fortune using his low-risk, high-reward strategies to inexpensively acquire real estate. He continues to do so.
As well Mr Otton travels between his home in Australia, and the UK, sharing his wisdom and teaching others how to buy and sell real estate, free from the constraints imposed by traditional lenders.
In 2013 Rick is celebrating the 10 year anniversary of introducing his property option strategies to real estate investors in the United Kingdom – the first person to reveal these ground-breaking strategies. In 2008 he created the first of his 'Houses for a Pound' strategies, upon which he grows as markets and laws evolve.
Mr Otton has been featured in a variety of television programs and magazines and in 2013 he published 'How To Buy A House For A Dollar' for the Australian market. This book has been named in the list of the Top 10 Most Popular Finance Titles for 2013, as voted by Money Magazine and Dymocks Book stores. A UK version is on the drawing board.
For full details of Mr Otton's upcoming 'How to Buy a House for a Dollar' seminars in major cities across the nation, visit HowToBuyAHouseForADollar.com or phone, in Australia 1300 888 450.
For general information about Mr Otton, visit http://www.RickOtton.com.