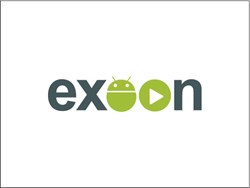 Park City, UT (PRWEB) August 19, 2013
Exoon is looking to take the fight to Apple in yet another arena with its new Android TV ™ set-top box.
Announced prior to Mobile World Congress in Barcelona, the Android TV ™ media streamer will alert the same sector of the market targeted by the Apple TV hockey-puck device.
That will bring access to a host of video on demand options, apps, games, music streaming services and much more. It can also be controlled by an Android smartphone or tablet.
The Android TV ™ set top box also has another advantage over Apple's locked-down, streaming-only device. As well as a much greater range of applications, it also brings 1TB of local storage.
Up to 8 accounts can be set up for private or shared storage, meaning a host of media can be transferred to the device for instant playback without streaming from the cloud.
It's also got a 1.7GHz dual-core processor, 1GB RAM, Bluetooth 4.0, Gigabit Ethernet, Wi-Fi, USB 3.0 and micro USB connectivity.
The device will be released in the United States in August before a global roll out shortly thereafter. UK pricing and availability has yet to be confirmed.