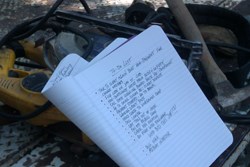 The deck has been stacked against us.
Los Angeles, CA (PRWEB) August 19, 2013
Lee Dodson, owner of contractorside.com, announced details today of his survey to outline status of men and women in the construction industry and late results are not optimistic. One hundred percent of the 31,000+ respondents work, or worked, in the construction trade. The responses come in at 3,000 per day as of 8/18/13. Fully 90% are considering leaving the business permanently. There is no encouragement in sight.
Writing in national e-publication, The Brenner Brief, Dodson stated that results of his questionnaire disclosed that the industry is in such disrepair that licensing boards are cutting staff at a rate not seen in ten years. Statistics picture a construction industry as stagnant, in decline, worse off than economists predicted.
Construction portion of GNP numbers are up from 3% in 2009 to 8%- today, and this data reflects nothing compared to figures 24% to 27% of 2007 before the collapse.
Dodson says, in an interview taped for future radio program to be aired next week, "I mounted this survey to ask potential users, contractors and trades-people, if I am on target with the forum contractorside.com and if the idea of a place for them to get their story out as to what they're up against in a tough business in an economy has virtually cut them out."
"The deck has been stacked against us," says Dodson, a contractor with over forty years' experience in the trades. "We small business contractors, sub-contractors, have had no real voice in dealing with those who have authority over us from government right down to clients. They have the ultimate power of the purse, regulation, courts, and we have taken it because there's no other game in town."
"We have to take the initiative by registering, filing comments, complaints or praise, where we see it every working day. Trades-people must clean up the business by joining others who work for a living, getting our side out. We have been separated from each other, and since bars and cafes are either unaffordable or no longer in style, we can put the information about who's okay or who's not okay on the contractorside.com."
Dodson calls the website an essential tool for the trades. "I had a client I built a fur vault for, a real wise man who told me 'There's the business of the trade, putting things together to make a product…then, there's the business of the business of making money. It's a marriage, and if one piece doesn't work, nothing works. Money is the lifeblood of business. Bad clients ruin it for everybody.' I never forgot it."
Dodson asks questions no one else asks in the survey.
Results are more than enlightening.100% say business is far off from six years ago.

90% are not optimistic about near term work, 60% struggle.
96% consider changing careers.
91% have taken supplementary menial jobs.
68% are on government assistance of one form or the other.
54% cannot qualify for credit.
89% borrow from family or friends to make ends meet.
59% cannot afford insurance, could not qualify for ACA (Obamacare).
The most surprising survey response is that 80% are involved in a legal dispute over a project.
On the business side of the equation,1.6% think government can help reverse the down turn, but 81% think business can make it happen. 87% believe government and its regulating agencies are partly to blame for industry woes, and trades people specify that the bulk of the blame goes to people they deal with everyday: clients, local authority, inspectors, building and safety personnel.
The contractorside.com survey went live ten days ago. Full results will publish weekly in articles on the home page.
"A generation of American worker will disappear if things stay the same. We can save the business by getting smart, adapting, and thinking ahead, developing tools that serve the business by sharing information on anyone who takes advantage of a poor economy to exploit the craftsman. As for this website, there's nothing like it anywhere."
"The contractorside.com was developed to sustain the business by giving the trades a platform to comment, good or not-so-good, on anyone even remotely involved in construction. From clients to inspectors, architects, interior designers, the word has to get around as business intelligence, information as to how to deal with people or circumstances. If we do it for others, we can expect them to do it for us," Dodson offered. "Nothing changes unless we change it."
Dodson currently writes and speaks on economic issues on the construction industry in every venues that asks.
Dodson spent forty-one years in the construction trade, has written many articles for trade magazines, has served as expert witness in court cases, and has acted as mediator in many construction related issues. He currently contributes to The Brenner Brief e-newspaper and has written and published two books, Infiltration, a fictional account of a terrorist attack in southern Arizona, and This Never Happened, a high desert murder mystery.
323-243-0404
vndk8r(at)gmail(dot)com
http://www.skoshitiger.com/
Twitter: skshtgr11