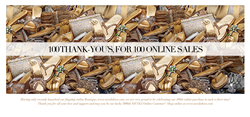 NICOLI - The luxury crystal embellished shoe and handbag brand. Shop online at www.nicolishoes.com.
(PRWEB) August 19, 2013
NICOLI celebrates the hit of their online boutique nicolishoes.com as the number of their online purchase reaches 100... and it's growing fast. (Maybe by the time this article gets published, the number has kissed a total of 150 or even more).
It was just a couple of months back when NICOLI proudly launched their online flagship boutique http://www.nicolishoes.com and in no time at all, they are celebrating its eminence, as the number of their online purchases has now reached a total of 100 and its growing. It is an occasion of immense joy and success for NICOLI and they also extend their heartiest felicitations to their valued 100th client and all those before who made it happen.
nicolishoes.com is an interactive luxury shoe and handbag shopping boutique which brings the high-end in-store NICOLI experience to its online customers around the globe. NICOLI's flagship online boutique nicolishoes.com offers its shoppers the chance to not only browse and buy the latest limited edition crystal embellished NICOLI Shoe and Handbag Collections via multiple payment options, but also allows its customers to buy the perfect gift every time by offering NICOLI Gift Vouchers which can be sent to friends and redeemed online and in stores though out the GCC. 
 
The site also encourages its visitors to engage and keep up-to-date with not only the latest news and trends from the brand, but from fashion trends around the globe through their News & Trends section which, along with the beautiful Shoe and handbag imagery can be easily shared with friends through Facebook, Twitter, Google +, Pinterest and Tumbler and that is just the beginning!
The NICOLI brand was founded in 2004 by Khurram Rafique and is proud to be an integral part of His Highness Sheikh Mohammad bin Rashid Al Maktoum's vision for the United Arab Emirates to lead the world in the global luxury goods market.
With their limited addition glamorous diamanté shoes and handbags, the NICOLI online boutique just like the NICOLI stores, has lured people's attention from around the world in a very short span of time. Tailored to match their clientele's tastes and demand, each and every shoe and bag from the NICOLI collection has been designed and hand crafted with the utmost care and attention to detail. Furthermore, NICOLI products are produced in limited quantities; this not only creates excitement when new collections are released monthly, but ensures only the finest shoes and bags carry the NICOLI name. The exquisite NICOLI shoes and handbags are perfect for giving a dose of dazzling bling to any occasion during the day or adding a touch of shimmering finesse to the party ensemble in the evening.
Beautifully designed bag shapes and carefully crafted heel heights emerge form the foundation of the NICOLI shoe and bag collections. Only the finest fabrics and materials are sourced and used, while many of NICOLI's innovative designs are generously embellished with twinkling diamanté crystals from Swarovski and Preciosa.
NICOLI offers a wide range of crystal embellished choe and handbag styles, from Wedges to Ballerina Shoes, Wedding Shoes to Flats and Sandals, exquisite Swarovski embellished high heels to glamorous hand crafted evening handbags, purses and clutches - all of which can be admired and bought online at http://www.nicolishoes.com and throughout the GCC at NICOLI Boutiques.