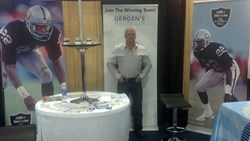 It feels good to make a difference and that's what we're doing.
Phoenix, AZ (PRWEB) August 24, 2013
Working with thousands of the top dentists in the country as an oral appliance expert and owner of Gergen's Orthodontic Lab, David Gergen has taken his knowledge and expertise to the sleep industry and has overwhelmingly conquered the competition; being sleep apnea. Gergen's Orthodontic Lab is the leading manufacturer of the FDA approved Sleep Herbst in the country. Mr Gergen said, "We are continuing to break all kinds of records here at Gergen's and we've only been picking up speed. I don't plan on slowing down."
By attending dental conventions across the country and speaking personally with doctors to improve company relationships, David has taken the company to new heights. Just recently Gergen took his team to San Francisco where plenty of networking was joined with the amazing scenery at the California Dental Association's presentation. Gergen's Orthodontic Lab added multiple accounts at the event. In addition, he has teamed up with Sleep Services. Together they help dentists across the country to better service sleep apnea patients. Since teaming up, they have seen an enormous increase in home sleep tests being ordered and oral appliance demand.
David Gergen says, "The goal is to get as many people treated for sleep apnea as possible. By creating Pro Player Health Alliance and working with Sleep Services as well as doctors all over America, I believe we are succeeding; the numbers can prove it. It feels good to make a difference and that's what we're doing." By teaming up with NFL legends,Pro Player Health Alliance (PPHA) has taken a bold step in battling sleep apnea. Fans from every team can attend free public events hosted by PPHA and learn about the personal struggles of their football heroes as well as become educated about the deadly disorder.
About Pro Player Health Alliance
Pro Player Health Alliance (PPHA) is an organization dedicated to helping former NFL players and the public through providing testing and treatment options for those who suffer from sleep apnea. In addition, the PPHA is dedicated to integrating education and raising awareness, in a fun and memorable way.
About David Gergen
As President of Gergen's Orthodontic Lab, he has been a nationally respected dental lab technician for over 25 years. He received the award for "The Finest Orthodontic Technician in the Country" given by Columbus Dental in 1986. He also has been appointed chair of the dental wing of the American Sleep and Breathing Academy, a national interdisciplinary academy dedicated to sleep training and education with over 60,000 members. He has worked for some of the pioneers in the orthodontic and sleep dentistry fields. One of his proudest achievements is receiving The National Leadership award for Arizona Small Businessman of the Year in 2004.