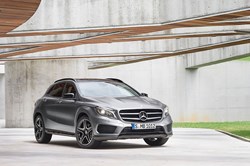 New Mercedes GLA-Class arrives for Spring 2014.
Stevenage, Hertfordshire, London, England (PRWEB UK) 19 August 2013
This is Mercedes' dramatic entry into the SUV market with its excitingly successful A-Class chassis. It is an amazing extension of the new A-Class line which has caught the attention of many looking to become Mercedes owners.
The GLA has been described as a larger version of the popular new A-Class. In actuality, it is an aggressive, low profile SUV that has power, agility, cutting edge technology and safety features. With a five-passenger cabin, drivers and passengers alike will enjoy a more upright siting position than the A-Class. It also comes well equipped with luxury appointments Mercedes owners have come to appreciate and expect. You can get a preview of this exciting vehicle by viewing available Mercedes GLA Images or the latest Mercedes GLA videos.
The Muscle Behind the GLA
This totally new GLA will come with a choice of four-cylinder petrol and diesel engines with options for a front or four wheel drive editions. For the front wheel editions, consumers can choose from a 1.6 litre turbocharged petrol engine in the base model GLA 200, or the 18 litre turbodiesel for the GLA200 CDI.
Mercedes 4Matic all-wheel drive models come with a 2.1 litre turbodiesel for the GLA 220 CDI and a 2.0 litre turbocharged petrol engine in the GLA 250. The GLA 250 is expected to reach an impressive zero to 60 mph in just 6.4 seconds. A test drive will likely set drivers back into their seats.
Safety and Technology Features
The new Mercedes GLA breaks into new territory including a long list of safety advances. Attention Assist which can detect drowsy driving. Collision Prevention Assist that can work at speeds as low as 4 mph. Collision Prevention Assist Plus and optional Distronic Plus cruise control can deliver autonomous braking up to 124 mph. These futuristic features can help prevent rear end collisions. The GLA will also have blind spot monitoring and automatic parallel parking.
The infotainment system in the GLA is nothing short of incredible. The use of Drive Kit Plus enables the integration with iPhones, features internet connectivity, access to social media apps, and has street view on its navigation system. It includes a DAB digital radio, and a host of Mercedes Command system electronics. Mercedes technology is unmatched and the GLA is proof.
On or Off-Road, The GLA is Built to Impress
This is a vehicle created to not just drive but to live. Motorways? Who needs them. The GLA has a hill descent feature and special transmission to accommodate off road driving. Aggressive drivers won't be alone. Experts believe that 80% of the GLA's sold will be four wheel drive versions. Under body panelling is designed to prevent under-carriage damage when driven in these off road situations. The GLA however, will be equally happy on the highway with its smooth, car-like suspension, lower profile aerodynamics and frugal fuel consumption. It provides ample storage capacity and versatility for the young family who don't want to sacrifice style for practicality.
Coming Soon to a Dealer Near You
Get ready for the new GLA as it is expected to be ready for ordering late this year. They are scheduled to be in showrooms in early 2014. You'll find the Mercedes GLA for sale at L&L Automotive, you Mercedes-Benz Hertfordshire retailer for Bishop's Stortford, Stevenage and Hertford. Contact them now to reserve yours.
END
Author: David Newman from Mercedes-Benz Hertfordshire
About Mercedes-Benz Hertfordshire - L & L Automotive
L&L Automotive is the driving force behind a dynamic retail network aimed at enhancing sales and after sales services for the region's existing and prospective Mercedes-Benz, AMG and smart customers.
Encompassing retail outlets in Bishop's Stortford, Hertford and Stevenage, the group is operated by L&L Automotive – a company boasting a lengthy and successful history.
L&L's Mercedes-Benz businesses moved into Hertfordshire in July 2002, when it was selected as one of Daimler UK's key business partners in establishing a revitalised national retail structure.
L&L Automotive. is a company registered in England and Wales with company number 4415393
VAT No. 794 6047 92
Mercedes-Benz of Stevenage : 01438 737800
Mercedes-Benz of Bishops Stortford : 01279 719333
Mercedes-Benz of Hertford : 01992 514444