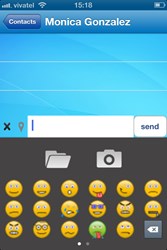 Thanks to the new feature users will be able to send and receive pictures from other iPhone and Android users and send only pictures to PC users.
(PRWEB) August 27, 2013
Sending pictures is the new major feature of the latest version of the Brosix Instant Messaging app for iPhone. Thanks to the new feature, users will be able to send and receive pictures from other iPhone and Android users, while also being able to send pictures to PC users. The new feature consists of a panel where users can choose to send an existing photo from the phone gallery or touch the camera button and take a new photo.
When a user receives a picture, there will be an extra menu from where user can forward it to other contact in the contact list or save it in the iPhone picture gallery.
Other Updates
Besides the exciting new photo sharing option, Brosix has also updated the iPhone instant messaging app to include a few more updates. This includes new emoticons, which are situated just under the photo buttons. Users can use these emoticons to add additional social emotion to the mobile instant messaging experience.
In addition, the Brosix Development team did also various bug fixes in order to improve the overall stability and functionality of the mobile app.
To learn more about Brosix Instant Messenger and how it can help you and your business meet its communication needs, please visit http://www.brosix.com
About Brosix
Brosix offers all-in-one instant messaging incorporating audio and video calls, sending screenshots, co-browsing, whiteboard and desktop sharing technology to provide an easy-to-use online meeting solution for high-quality online business collaboration. Used by more than 100,000 registered users, Brosix customers consist primarily of small- to medium-sized businesses. At present, more than 10,000 corporate customers in over 70 countries worldwide are using the Brosix private instant messaging networks and benefiting from significantly reduced travel time and travel expenses. Launched in 2006, Brosix is continuing to provide great enterprise instant messaging software to thousands of users around the world.