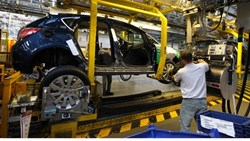 Ian Heard was a dedicated and loyal worker at Vauxhall for more than 40 years, but sadly he lost his life because of the company's safety failings.
Bolton, UK (PRWEB UK) 23 August 2013
Ian Heard died at the age of 59, after he was crushed by machinery in the car factory on July 22nd 2010. Mr Heard had been employed at Vauxhall Motors for more than 40 years, working in the paint unit, where cars are carried by a conveyer system to be spray painted. (1)
On the day of the incident, Mr Heard entered the area of the paint unit as the machinery became stuck. Unfortunately, as he tried to free the parts, the unit restarted and he was crushed between a roller and four heavy metal frames, also known as skids. (1)
It is believed, that the machinery, installed in 1990, originally had a safety feature which did not allow access within the unit unless power was cut off. Following an inspection by Health and Safety Executive (HSE), a doorway was found at the back of the paint unit, which had been allegedly created to allow access without the power being cut, bypassing the safety features. (1)
Although a risk assessment, carried out in 2000, identified the risk posed by the presence of the new door, it is alleged that no further action was ever taken by the car firm. (1)
Speaking after the hearing, HSE Inspector Martin Paren said:
"Ian Heard was a dedicated and loyal worker at Vauxhall for more than 40 years, but sadly he lost his life because of the company's safety failings.
"There was absolutely no point in Vauxhall carrying out a risk assessment into the dangers posed by the machine if it wasn't going to act on the recommendations.
"As a result workers who walked through the door to free up skids in the paint unit were put in danger for almost a decade, and one of them eventually suffered fatal injuries.
"The company has now installed a new safety system on the door which means power to the machine has to cut before the door can be opened. If this system had been in place in July 2010 then Mr Heard's life could have been saved." (1)
The Company was fined £150,000, and ordered to pay £19,654 in prosecution costs. (2)
Commenting on the news, Thomas Fairclough, Executive at Asons Solicitors, made the following statement:
"A fatal accident of this kind is devastating. It could have easily been prevented if the Health and Safety guidelines had been in place."
"Hopefully, employers will learn the lesson, acting quickly when risk assessments highlight health and safety breaches in factories' departments."
Asons Solicitors suggest that if someone would like to learn more about the personal injury claims process, or if they would like to better understand the condition, that information is available at http://www.asons.co.uk, or via an expert helpline on 01204 521 133
(1) Liverpool Echo – 14th August 2013 liverpoolecho.co.uk/news/liverpool-news/vauxhall-motors-fined-150000-after-5719338
(2) Liverpool Crown Court – Case N. S20130576

About Asons Solicitors:
Asons Solicitors is a Bolton-based law practice that specialises in personal injury and industrial disease claims. Founded by brothers Imran Akram and Kamran Akram, Asons Solicitors has developed to become a young and dynamic law firm that delivers practical solutions to clients in times of difficulty. Their continued focus on their staff has seen them awarded with the Investors in People "Gold Award"; which is reflected in the professional and personable approach they take in working with clients. They strive to grow and to develop, and their supportiveness and attention to detail ensures that their clients use them time and again.
For further information contact:
Email: info@asons.co.uk
Website: http://www.asons.co.uk