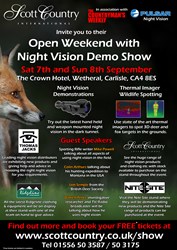 Scott Country is an organisation that has always impressed me, not only for the equipment they offer but for their in depth knowledge of it.

Mike Powell, Sporting Rifle
Wetheral, Carlisle, CA4 8ES (PRWEB UK) 21 August 2013
Ever wondered what's lurking around in your garden at night, well Night Vision Specialists Scott Country International can help visitors find out, as they host their first ever Open Weekend and Night Vision Demo Expo alongside leading suppliers, the very latest thermal imagers, hand held night vision, riflescope night vision and accessories, at the Crown Hotel, Wetheral, Carlisle on the 7th and 8th September 2013.
This event will attract a wide spectrum of visitors from wildlife photographers, to hunters, and professional vermin controllers, bird watchers, environmental consultants, wildlife agencies, and wildlife enthusiasts.
This bespoke event will show visitors how they are able to get up close and personal to wildlife with the very latest digital night vision, image intensifiers, thermal imagers, wildlife cameras, and infrared devices.
Scott Country will be retailing all the latest night vision and thermal imaging equipment with the opportunity to test the latest devices in their night vision demo dark tunnel, or why not try and spot the realistic 3d wildlife targets in the hotel grounds using the very latest state of the art thermal cameras.
Leading UK night vision distributors Thomas Jacks will be exhibiting at the event, supporting Scott Country, with latest Pulsar night vision available for demo, including the fantastic Pulsar Digisight N750, Pulsar Forward DFA75, Yukon Photon 5x42, and the new Pulsar Quantum Thermal Imagers and Guide IR518 Thermal Imagers, which will all be available to buy on the Scott Country Stand or via their online shopping website.
The latest hand held thermal imagers detects the heat source of wildlife, vehicles or humans up to 900 meters away, day or night, making them ideal for surveillance, security or for wildlife observation.
Leading UK wildlife camera review site trailcameras.co.uk will be showcasing all the latest wildlife cameras from Spypoint and Bushnell.
These remote camera traps and wildlife cameras use state of the art infrared motion detection to capture video or stills of wildlife day or night.
Trailcameras.co.uk will have TV and Radio broadcaster Darren Perks on their stand throughout the weekend, offering help and advice on how to get up close and personal with wildlife in visitors gardens or local woodland.
Guest speakers at the show include well known and respected kit tester and magazine writer Mike Powell. Mike will be on hand to share his passion on foxing together with his extensive knowledge of using various night vision equipment.
Colin Arthurs, a professional stalker, wildlife photographer and night vision user, will be talking about his hunting trip to Montana which took place in early part of 2012. He took the opportunity to go on an Elk hunting trip which involved camping out in the wilderness of Montana over 6000ft above sea level. As Colin will be discussing, such a trip could not be taken lightly and involved much preparation and a not inconsiderable amount of survival training to say the least! Colin invites visitors to listen to the full story with the highs and lows he experienced during his adventure in wilderness of Montana.
Byron Pace from Sporting Rifle and The Shooting Show TV channel will be giving the run down on the latest night vision in his talk.
Ian Semple, secretary of the British Deer Society (Central Scotland) will be giving a talk on various aspects of deer stalking, management and the work done by the British Deer Society.
Last but not least the event also sees Darren Perks take to the talk studio stage.
Darren Perks is an investigative researcher and broadcaster who regularly works with the BBC, Sky, History Channel and Swedish TV and is also a radio show co-host. His experiences with night vision equipment cover the use of general hand held night vision in different environments all over the world.
He is also known for capturing 'unusual phenomena' on film with the aid of night vision technology as well as general wildlife observation and astronomy and his talk will cover how he personally uses night vision technology for his investigative work and how it can be applied to many other different applications.
Darren appeared Live on BBC News on Saturday evening talking about his experiences at Area 51, the secret US air base.
The Crown Hotel, Carlisle, CA4 8ES is situated in the picturesque and peaceful village of Wetheral and is close to the historic city of Carlisle and Hadrian's Wall. The hotel can be easily reached by road as it is only two miles from either junction 42 or 43 of the M6 motorway.
For guests traveling by rail the local railway station is just a short stroll from the hotel and is on the Carlisle to Newcastle line.
Scott Country are currently giving away free advance tickets, however these are limited in number, and a fee will be charged for admittance on the day if you do not book in advance.
Find out more or book free tickets to the event at http://www.scottcountry.co.uk/show.