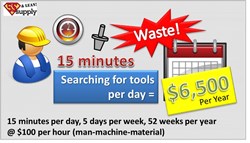 Frankfort, IL (PRWEB) August 20, 2013
How much time is lost when CNC Operators have to search for tooling? This is a classic example of waiting waste, motion (walking) and transportation (moving items) waste.
Q. What's one of the main causes of this waste?
A. Not having what you need, where you need it.
Many CNC (Computer Numerically Controlled) machines have carousels to hold needed tooling, but unfortunately it never seems to hold all the tools needed. Countless manufacturing companies and job shops keep the CNC tooling in a Tool Room. Regrettably, these are not typically located next to the CNC's.
A simple solution – have CNC Tool Carts next to the CNC machine. By placing needed tooling next to the machine at "point-of-use," waste can be reduced. This is part of "Set-in-Order" from the 5S's. Organize tooling by how often it is used, label it and color-code it to make it easier to identify quickly.
If searching time is reduced or eliminated, there can be phenomenal savings.
5S Supply has partnered with Stor-Loc to provide five different styles of CNC Tool racks including:

Stor Caddy – great for Changeovers! Customize with 1-3 drawers to hold inspection tools, etc.
Tool Cart – includes two pull out decks for tooling
Tool Rack – when you need more storage at point-of-use, eight shelves
Tool Caddy – mobile solution to hold your tools,
Mini Tool Caddy – when space is at a premium, four shelves
Get your workplace organized, save time and money with Stor-Loc and 5S Supply.
Stop by http://www.5Ssupply.com for more information on how to apply lean principles to improve any workplace. Contact 5S Supply at 888 4 LEAN 5S (888-453-2657) or info(at)5Ssupply(dot)com. 5S Supply is the premier provider of Lean supplies, training and services.