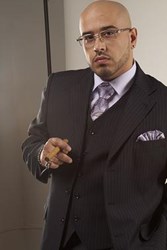 Our 'Celebrity Sundays' events provide our students with the practical expertise that employers look for, and will give them a huge competitive edge in the marketplace.
Miami, FL (PRWEB) August 19, 2013
SAE Institute, which was recognized by Vibe Magazine as being the best audio recording/engineering school in America, recently held the latest edition of "Celebrity Sundays," a studio series for the audio technology students at their Miami campus. The event featured a visit from Latin Grammy-winning songwriter/producer Domingo Ramos and Independently Major Entertainment recording artist Jen Rodriguez.
"Celebrity Sundays" is a monthly initiative that invites producers and recording artists from the Miami area to SAE's studios. Top performing students in SAE's audio technology program help to record and mix the artists' music for demo purposes, and possible commercial release.
"Our students are on a mission to complete their lab hours early and study hard so they can be a part of 'Celebrity Sundays'," says Vincent Brooks, Campus Director at SAE Institute Miami. "It gives students the chance to gain essential experience by working with artists who are moving up in the entertainment industry."
"Celebrity Sundays" debuted in April with a session by Blow, a rapper signed to Independently Major Entertainment (IME). IME is a Miami-based company owned by retired NFL star Thomas Jones and led by Ramos, who won a Latin Grammy in 2004 for the production of the multimillion selling hit "En Honor a La Verdad" by Puerto Rican rapper and reggaeton artist Vico C.
"The experience of having Jen work with SAE's students was amazing," says Ramos. "They were all very talented, both musically and business-wise. The equipment that we used – which is what the students are also using in their audio technology education – is state-of-the-art, and comparable to the setups that I work on in Miami's top recording studios."
Brooks feels that "Celebrity Sundays" provides SAE's audio technology program students with an advantage over students from other audio engineering schools.
"At SAE, we aim to make our grads employment-ready when they connect with our network of industry-leading alumni around the world," explains Brooks. "They'll know both the technical details about audio technology and production as well as how to correctly apply that knowledge in real world scenarios. 'Celebrity Sundays' provides our students with the practical expertise that employers look for, and will give them a huge competitive edge in the marketplace."